Rivals national recruiting analyst Clint Cosgrove and national recruiting director Adam Gorney – along with national recruiting analyst Ryan Wright and Zach Libby of MaizeAndBlueReview.com – tackle three topics and determine whether they believe each statement is FACT or FICTION.
1. Written, official offers should be the only way that programs are able to offer high school prospects.
Gorney's take: FICTION. There is no way to police verbal offers and with so many twists and turns not only from a coaching staff but also from a prospect, it would be nearly impossible to manage numbers. I get the other side of this argument – that some schools "offer" more than 200 kids in a recruiting class where they can take about 10 percent of them to fill out their numbers but I don't think official offers is the way to answer that. It could make some coaches hesitate to offer kids or it could make prospects unclear about where they stand among offered prospects? The top guys are pretty clear where they stand on a team's board and the mid-level kids probably do, too. I get the discussion around offers and which ones are "committable" and "not committable" but this whole thing is a gray zone. I don't think only having official offers is the best way forward.
Cosgrove's take: FACT. I am not implying this would instantly fix the current offer problem but the offer process needs to change and I believe this could be the first step towards doing so. I am not even suggesting that a school should be forced to cap the number of official offers they extend, but I do know this would likely make coaches think twice about extending un-committable offers while at the same time creating a level of accountability. This August 1 date is the both first time a recruit can receive an official offer and also the first time many prospects find out they aren't actually being recruited by a program they believed was pursuing them. Something needs to change with the offer process and this would be a step in the right direction.
*****
2. Michigan will land at least three commitments out of this past weekend's BBQ at the Big House.
Libby's take: FACT. There has been one commitment so far as a result of Sunday's barbecue in 2023 three-star offensive Evan Link, whose addition was a major recruiting win for Sherrone Moore in his search for more pieces to his group outside of Amir Herring. Link may have announced his choice without warning but it should make for the start of a positive and celebrated domino effect.
Michigan is also in really good shape with a pair of Charlotte (N.C.) Providence Day phenoms in 2024 five-star quarterback Jadyn Davis and 2024 three-star wide receiver Channing Goodwin. They were back on campus for the second time in less than two months this weekend with the Wolverines rolling out the red carpet for their arrival. They didn't come alone either as 2024 Rivals250 four-star Jordan Shipp and 2023 three-star defensive back Chris Peal were also in attendance. Shipp, in particular, has mentioned the intrigue of playing college ball with his high school teammates.
One important target that Michigan moved the needle with was 2023 Gilbert (Ariz.) Highland three-star offensive tackle Caleb Lomu, who has risen to the top of the Wolverines' board significantly after they missed out on multiple linemen earlier this summer.
All in all, Link won't be the lone success story for Michigan because of the barbecue, which will end up being the event that steers away the criticism that Michigan faced for most of the offseason regarding its recruiting efforts.
Cosgrove's take: FACT. There has already been one commit in Evan Link that came out of the BBQ at the Big House and although the commits may not come right away, I would be shocked if Michigan were not to add at least two additional prospects who attended the event. There is a buzz that Jadyn Davis and his teammates really enjoyed themselves. It also sounds like the Wolverines' staff made a great impression on Jyaire Hill and his family I know fans begin to panic when there isn't a string of commitments after these themed events, but they are known to leave a lasting impression on recruits, and I know Michigan rolled out the red carpet to make it a special day for all involved. At the end of the year, even if every top national target in attendance at the Big House over the weekend were to commit elsewhere, there should definitely be at least three quality commitments who attended the BBQ at the Big House.
SHARE YOUR THOUGHTS WITH MICHIGAN FANS AT MAIZEANDBLUEREVIEW.COM
*****
3. A recent decommitment and rumors of other 2023 commits wavering should give Ohio State fans reason to worry about their 2023 class.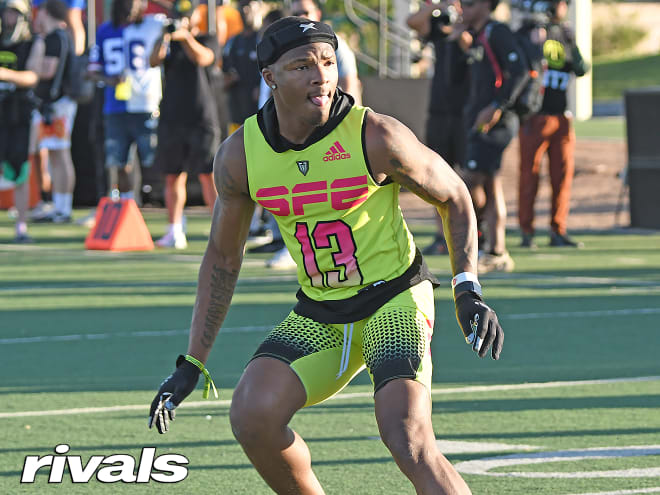 Wright's take: FACT. Teams are not going to let up recruiting top talent, and that's what Ohio State has right now. Players will flip, for Ohio State or any program. If they lose a player can they replace him with a fair equivalent in ability? This early in the game the Buckeyes can. The turn is to figure out what needs to be done keeping this very talented class together. Having players take official visits in June with little to look forward to in the fall may be a detriment to a lot of high-profile teams.
Cosgrove's take: FICTION. I don't think Ohio State fans should be in panic mode yet, but if this were to happen in December then it may be concerning. While losing commits and rumors of more players wavering on their decision would be a major concern for teams, this is still Ohio State and they will be able to recover from just about any player they miss on early. There is a reason the Buckeyes have won the Big Ten recruiting title for the better part of a decade and while the rumors and recent loss hurts, there is still plenty of time for the Buckeyes to identify and offer new players, or even flip commits from the same team's they compete with for recruiting and national titles. All is OK in Columbus, at least for now.
SHARE YOUR THOUGHTS WITH OHIO STATE FANS AT DOTTINGTHEEYES.COM