ATLANTA – From the Rivals Underclassmen Challenge on Friday, national recruiting director Adam Gorney writes about his surprise in how many top prospects were talking about Tennessee, how recruiting is moving faster than ever with 2025 prospects and his thoughts on some standout quarterbacks from the event in today's Three-Point Stance:
1. TENNESSEE TALK
I sat in the hotel lobby Thursday for media day at the Rivals Underclassmen Challenge and after talking to nearly 30 prospects mainly in the 2024 and 2025 classes I was struck by just how many mentioned Tennessee in their recruitments.
David Stone said the Volunteers are moving up. Jordan Anderson is definitely interested in Tennessee after his 7-on-7 quarterback Nico Iamaleava committed there. Kam Pringle is visiting Knoxville this weekend. Marquise Lightfoot, Jo'Ziah Edmond, Jamir Benjamin, Myles Jackson and Cutter Boley were just a few other top prospects who said they're serious about Tennessee.
Those statements back up other talk from the OT7 event in Las Vegas last week where a whole bunch of other top prospects talked about the Volunteers and how interested they are in the program.
When I sat down with Iamaleava and his father in Las Vegas, they talked about coach Josh Heupel's bona fides and what he's done but also about numerous assistants that have made a big impression and how the five-star quarterback has gone from recruited to recruiter. It is definitely a team effort and the Vols are not on top yet but things are absolutely trending in the right direction with so many elite players talking them up.
SHARE YOUR THOUGHTS WITH TENNESSEE FANS AT VOLQUEST.COM
*****
2. RECRUITING IS MOVING FAST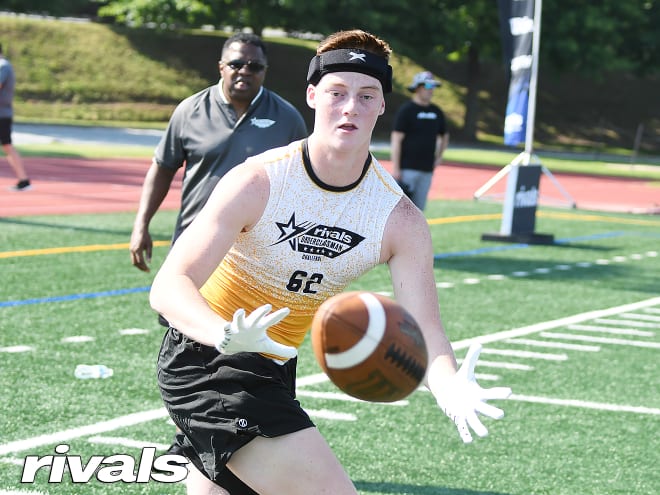 Early offers are nothing new in recruiting and quite frankly with the dawn of social media there are a whole lot of new offers going out all the time to younger players but this weekend I was struck just how deep some recruitments are for prospects even in the 2025 class.
These are players who are still in their freshman years of high school but many have double-digit offers, have already taken numerous extended tours to see colleges across the country and so much more. Part of me wonders if it's all that useful this early with so many significant changes across the college football landscape at all times but getting a jumpstart – and as much information as possible – cannot hurt, either.
Here is some of the latest buzz from 2025 prospects: Marcus Harris has Georgia and Texas among his favorites; Jordan Davison has four standing out; Koby Howard just got an LSU offer and visited Texas A&M; Winston Watkins is already committed to Texas A&M but has Ohio State, Clemson and others pushing; Bear Tenney just landed Georgia and Tennessee after visiting both schools; Brett Bordelon, when not being asked about teammate Arch Manning, has Alabama, Georgia and LSU. There are so many others – and it's still so early.
*****
3. THOUGHTS ON QUARTERBACKS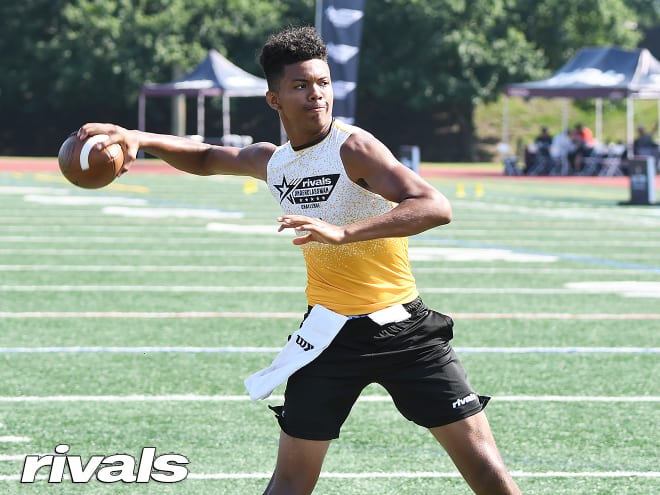 The 2024 group was well-represented with Kamari McClellan winning the position MVP and then KJ Jackson, Mabrey Mettauer and Myles Jackson all having their shining moments throughout the workout. McClellan is on the leaner side but still throws with power and has great timing with receivers. Mettauer is big and has the arm talent to back it up, Jackson has great power and is lefty and Jackson had an impressive performance as well.
But I was especially looking at the 2025 group because TJ Lateef had his moments, Antwann Hill is all of 6-foot-5 and 215 pounds and could be really special down the road, Zander Smith has a couple Power Five offers but showed off a lot of ability and then Cutter Boley, who just landed a Michigan offer, has the potential to be really special in the coming years.
As the camp was going on, there was a serious debate whether a middle schooler was actually the best quarterback at the event. Jaden O'Neal from Los Alamitos, Calif., is big, physical, filled out and way, way beyond his years in terms of being a technician at the QB spot. Among a group of really talented quarterbacks far younger than him, O'Neal looked great.