Rivals national recruiting analyst Adam Friedman addresses the value of showcase events, rates where some programs in the East come in on the Panic Meter and poses a few big questions heading into this week's Rivals Underclassmen Challenge.
*****
MORE THREE-POINT STANCE: Big rule change, team rankings, Midwest risers | Receiver rankings, five-star candidates, OT7
CLASS OF 2023 RANKINGS: Rivals250 | Team | Position | State
CLASS OF 2024 RANKINGS: Rivals250 | Team | Position | State
TRANSFER PORTAL: Stories/coverage | Message board
RIVALS CAMP SERIES: Info for 2022 series
*****
1. 
Major showcase events are good for the game
Even the casual football fan knew that Overtime hosted a massive 7-on-7 event this past week in Las Vegas and, for all the good publicity and reaction it got on social media, there was "Coach Twitter" calling it the "underwear olympics" or saying "these events teach bad technique."
With this being the 10th season of the Rivals Camp Series, we're all too familiar with coaches from all levels and fans and parents that let their Twitter fingers get the best of them. They're quick to point out plays they deem to be worthy of a flag or routes they think wouldn't work at the college or NFL level.
It's puzzling that these people never really stopped to think, "Wait a second. These are the same drills the colleges are doing in practice and their offseason camps."
The fact of the matter is that showcase events like the Rivals camps and the Overtime 7-on-7 tournament are good for the game and they're good for player development. The large majority of first-round picks in this year's NFL Draft participated in high school showcase events like these. In the last seven years, all but one Heisman finalist (Baker Mayfield) took advantage of these showcase opportunities.
"Coach Twitter" won't stop because logical reasoning doesn't resonate on social media, but even the casual fan can see how these offseason events help college and NFL stars develop at an early age.
*****
2. The Panic Meter for some East programs.
There are commitments coming in left and right this time of year and, by the middle of July we'll have a very good idea which teams will have a solid foundation for the future. Here's a look at where a few teams in the East rate on the Panic Meter, with 10 meaning it's time for a full-on panic and 1 meaning that team should be calm because they're in good position to finish with a solid recruiting class.
*****
Clemson
Panic Meter rating: 2
The Tigers have picked up seven commitments this month and currently have the No. 6 recruiting class in the team rankings. Just two of their commitments are three-stars and the rest of the 11 total are four-stars. They only hold one commitment at key position groups like offensive line and receiver, but those numbers are bound to go up as the process moves forward.
*****
Florida State
Panic Meter rating: 5
With just eight commitments so far, Florida State fans need to hope for a big summer, otherwise the Panic Meter will move in the wrong direction. The Noles have commitments from some quality prospects, but just two of them are four-stars and none of them are on the offensive line, which is arguably their biggest area of need. Florida State needs to pick it up or panic will ensue.
*****
Maryland
Panic Meter rating: 10
The best thing about Maryland's recruiting class right now is that it has plenty of big-time targets still out there. The Terps are dead last in the Big Ten team recruiting rankings, and all three of their commitments are low three-star prospects. Maryland was hit hard by the transfer portal this offseason, but the Terps do have a lot to look forward to this fall. They still have a talented squad, but this recruiting cycle hasn't been overly kind to the Terps.
*****
North Carolina
Panic Meter rating: 7
The Tar Heels have brought in a couple top 20 recruiting classes in a row, but this year might be different and not in a good way. North Carolina only had three commitments coming into the month and it added three more since, but there's only one four-star in the class of six. The offensive line has been an area of focus for the last couple classes and so has receiver. Between the two position groups, North Carolina has just one commitment, so this needs to be a big summer for the Tar Heels.
*****
Rutgers
Panic meter rating: 7
Greg Schiano and his staff have fairly quickly assembled a group of 14 prospects that currently rank in the top 20 of the team rankings and are right in the middle of the Big Ten rankings, but those rankings are going to change and not for the better. With an average stars-per-commit of less than three and the fifth most commitments in the nation, Rutgers is running out of room in this class to add highly rated prospects and keep other teams from passing them in the team rankings.
*****
3. Questions heading into the Rivals Underclassmen Challenge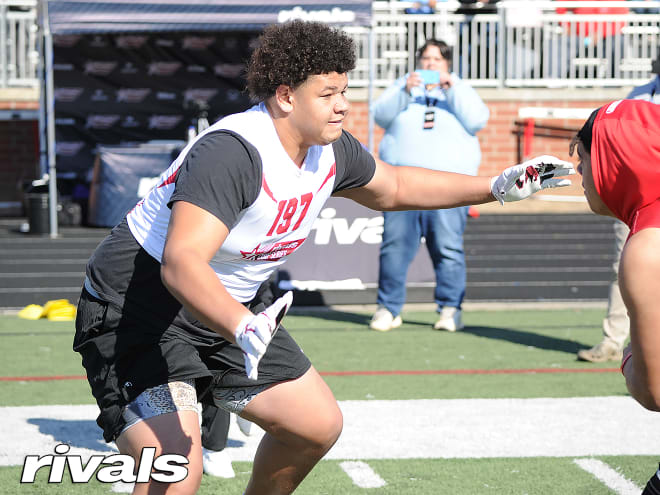 Can Kam Pringle continue his push for five-star status?
Pringle is no stranger to the camp scene and has competed with elite defensive linemen before. He was outstanding at the Charlotte Rivals Camp earlier this year, but reports of his other camp performances around the country this spring have varied. Pringle has plenty to prove later this week.
Who will lead a talented group of quarterbacks?
Five four-stars in the 2024 class are scheduled to participate this week, and each of them have made headlines at various events throughout the spring. Jayden Bradford, Kamari McClellan, Mabrey Mettauer, Myles Jackson and Prentiss 'Air' Noland are hoping to vault themselves into the upper echelon of passers in the 2024 class.
Will another 2024 five-star DE emerge?
Colin Simmons is the only five-star defensive lineman in the 2024 class so far, but there are a handful of other candidates that will be in Atlanta this week. Dylan Stephenson, Kavion Henderson, Booker Pickett and KingJoseph Edwards have impressed throughout this offseason and they'll have plenty of chances to up their stock this week.
Who will be the alpha among an impressive group of 2025 and 2026 prospects?
There will be some elite 2025 and 2026 prospects making the trip to Atlanta, and many of them are used to being the best player their age on any field they step on. The defensive line group is especially stacked, with Armondo Blount, Brandon Thomas, Ethan Utley, Gus Ritchey, Bryce Jenkins, Trenton Wilson and Jahkeem Stewart expected to attend. Texas A&M 2025 commit Winston Watkins Jr. nearly won the receiver MVP award earlier this year at the Miami Rivals Camp.