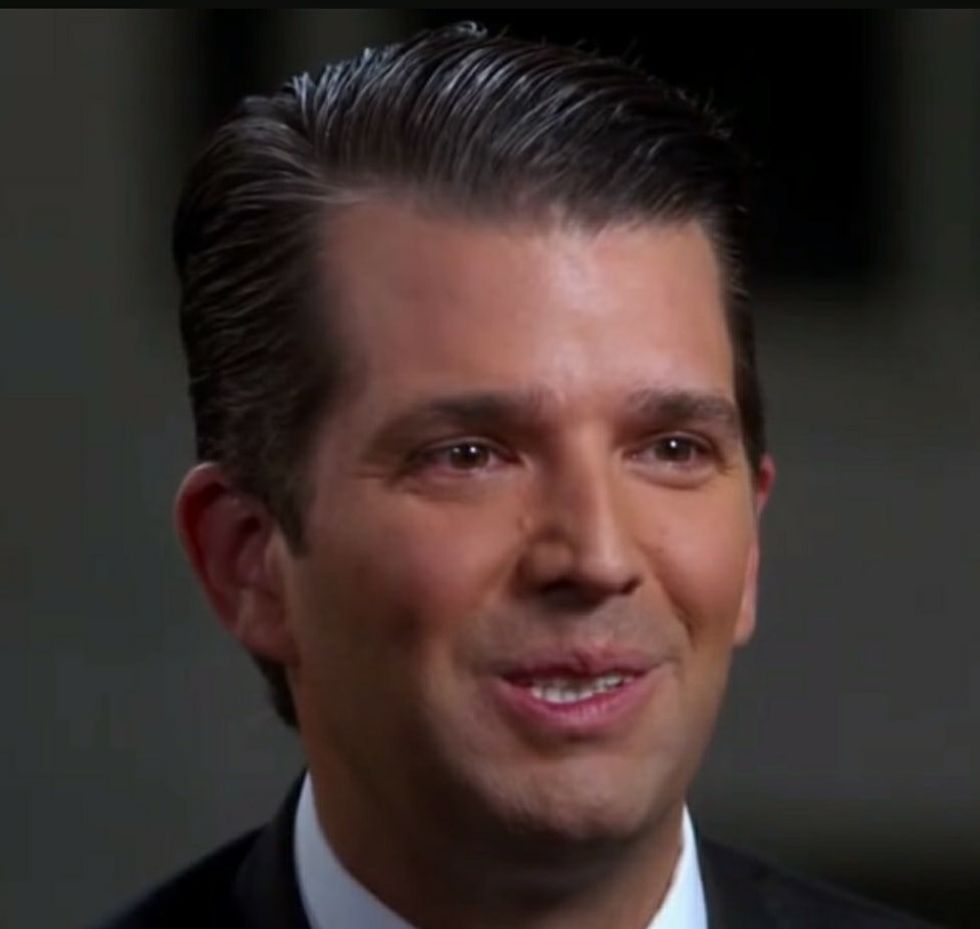 Donald Trump Jr frowned as seen in the photo above, and it was a terrible thing, but it was because he was thinking about geopolitical thinking.
So, as a person who is allowed to be on Twitter, hey formed this thought on Twitter. Which is a shame, because if he was doing it for dad's approval, affection, or love, dad can't see him there.
It was a thought about Finland, a free country, joining NATO. Literally all people who love democracy and freedom think this is a good idea. The only people who don't like this idea are Putin and his sycophants. Hell, Putin even tried to disconnect the electricity, but Finland was like a dick and now Putin is keeping to his word. well all right for the accession of Finland and Sweden to NATO.
Which leads us to:
---
Wow, Junior, how did you manage to hit so many of Vladimir Putin's weaknesses in so few characters?
To suggest that Finland is "okay" and shouldn't worry about anything, despite its hostile neighbor – who has already attacked it before, with terribly embarrassing results, for his neighbor – is he currently committing war crimes and genocide on another peaceful neighbor? Check.
Suggest that Putin deserves to have a "buffer zone" from NATO, because whatever Putin wants Putin gets, if that's what you say Does Junior love it, especially later in the summer? Check.
To suggest that Putin should simply invade because Ukraine was about to join NATO (it wasn't), thus eliminating that "buffer zone"? Check.
By suggesting "the invasion of Ukraine has begun" for any other reason other than the fact that the dictator of garbage in Russia with all the stupid looking fillers in his face felt killer and decided to start killing people to satisfy the his clown dreams of a reconstituted Russian empire? Control control control control!
boy, young man Surely you've learned from the best, when it comes to being on Putin's side instead of the American side.
Let's say your father must be shot, except we know HEY never impressed with you
womp womp
Follow Evan Hurst on Twitter right here!

Wonkette is FULLY funded by a few thousand people like you. If you aren't already, would you consider yourself to be the few thousandth and one?
window.REBELMOUSE_ACTIVE_TASKS_QUEUE.push(function(){
!function(f,b,e,v,n,t,s) {if(f.fbq)return;n=f.fbq=function(){n.callMethod? n.callMethod.apply(n,arguments):n.queue.push(arguments)}; if(!f._fbq)f._fbq=n;n.push=n;n.loaded=!0;n.version='2.0'; n.queue=[];t=b.createElement(e);t.async=!0; t.src=v;s=b.getElementsByTagName(e)[0]; s.parentNode.insertBefore(t,s)}(window, document,'script', 'https://connect.facebook.net/en_US/fbevents.js'); fbq('init', '482172895483293'); fbq('track', 'PageView');
});
window.REBELMOUSE_ACTIVE_TASKS_QUEUE.push(function(){
/*! getClosest.js | (c) 2017 Chris Ferdinandi | MIT License | http://github.com/cferdinandi/getClosest */ /** * Get the closest parent element that matches a selector. * @param {Element} elem Starting element * @param {String} selector Selector to match against * @return {Boolean|Element} Returns null if not match found */ var getClosest = function(elem, selector) {
// Element.matches() polyfill if (!Element.prototype.matches) { Element.prototype.matches = Element.prototype.matchesSelector || Element.prototype.mozMatchesSelector || Element.prototype.msMatchesSelector || Element.prototype.oMatchesSelector || Element.prototype.webkitMatchesSelector || function(s) { var matches = (this.document || this.ownerDocument).querySelectorAll(s), i = matches.length; while (--i >= 0 && matches.item(i) !== this) {} return i > -1; }; }
// Get closest match for (; elem && elem !== document; elem = elem.parentNode) { if (elem.matches(selector)) return elem; }
return null;
};
// Vanilla JS
var className="active";
// getting current URL and adding a class on the current menu item
var path = location.pathname.split("https://www.wonkette.com/")[1]; var link = document.querySelectorAll('.menubar a[href="https://www.wonkette.com/" + path + '"]'); if (link[0]) { if (link[0].classList) { link[0].classList.add(className); } else { link[0].className += ' ' + className; } }
// remove class from home-link var home = document.getElementsByClassName('home__item'); if (home[0]) { if (home[0].classList) { home[0].classList.remove(className); } else { home[0].className = home[0].className.replace(new RegExp('(^|\\b)' + className.split(' ').join('|') + '(\\b|$)', 'gi'), ' '); } }
// search the closest parent and adding an active class on it too
var closestParent = getClosest(link[0], '.menubar_item-dropdown');
if (closestParent) { if (closestParent.classList) { closestParent.classList.add(className);
} else { closestParent.className += ' ' + className; } }
var socials = document.getElementsByClassName('social-links')[0]; var cloneSocials = socials.cloneNode(true);
var menu = document.getElementById("menubar"); var cloneMenu = menu.cloneNode(true);
var mobileMenu = document.getElementsByClassName('main-menu-wrapper')[0]; var beforeEl = document.getElementsByClassName('menu-global__search-form')[0];
mobileMenu.insertBefore(cloneSocials, beforeEl); mobileMenu.insertBefore(cloneMenu, beforeEl);
if (!document.body.classList.contains('logged-out-user')) { var existCondition = setInterval(function() { var userLink = document.querySelectorAll('.main-menu-item--my_page .link'); if (userLink.length) { clearInterval(existCondition); var membersLink = document.querySelectorAll('#membersLink'); var userUrl = userLink[0].href; Array.prototype.forEach.call(membersLink, function(el) { el.href = userUrl; });
if (document.querySelector('.main-menu-item--designer_editor')) { document.querySelector('.main-menu-wrapper').classList.add('user-admin'); } } }, 500); } else { var existCondition = setInterval(function() { var userLink = document.querySelector('.main-menu-item--login .link'); if (userLink) { clearInterval(existCondition); userLink.href="http://www.wonkette.com/core/users/email_login/"; } }, 500)
}
function copyValue(el) { var thisVal = el.options[el.selectedIndex].text; var closestForm = getClosest(el, 'form'); var paypalAmount = closestForm.nextSibling.querySelector('.paypal-amount'); paypalAmount.value = thisVal; }
document.addEventListener("scroll", createIdleScrollListener(() => { if (window.scrollY > 0) { document.body.classList.add('page-scrolled'); } else { document.body.classList.remove('page-scrolled'); } }));
function createIdleScrollListener(callback) { let ticking = false;
return function onScrollIdle() { if (ticking) { return; } ticking = true; requestAnimationFrame(() => { callback(); ticking = false; }); }; }
});
window.REBELMOUSE_ACTIVE_TASKS_QUEUE.push(function(){
window.addEventListener("scroll", () => { if(this.scrollY > 50 ) { document.querySelector(".rebelbar.rebelbar--fixed.skin-simple").style.display = 'none' } else document.querySelector(".rebelbar.rebelbar--fixed.skin-simple").style.display = 'block' });
});
window.REBELMOUSE_ACTIVE_TASKS_QUEUE.push(function(){
window.REBELMOUSE_STDLIB.loadExternalScript("https://checkout.stripe.com/checkout.js", function() {
if (!Element.prototype.matches) Element.prototype.matches = Element.prototype.msMatchesSelector || Element.prototype.webkitMatchesSelector;
if (!Element.prototype.closest) Element.prototype.closest = function(s) { var el = this; if (!document.documentElement.contains(el)) return null; do { if (el.matches(s)) return el; el = el.parentElement || el.parentNode; } while (el !== null && el.nodeType === 1); return null; };
function formsHandling() { var formDonate = document.querySelectorAll('.donation-form:not(.processed)');
formDonate.forEach(function(formEl) { var formEl = formEl;
formEl.classList.add("processed");
formEl.addEventListener("submit", function(event) { event.preventDefault(); });
var donationBtns = formEl.querySelectorAll('.donate-button');
donationBtns.forEach(function(el) { el.addEventListener("click", function(event) { event.preventDefault(); formProcessing(el) }); });
function formProcessing(el) { var btn = el; var payment = btn.getAttribute('data-payment'); var planType = formEl.querySelector('input[name="plan_type"]:checked').value; var checkedOption = formEl.querySelector('input[name="amount"]:checked'); var amount = checkedOption.value * 1; var amountOptional = checkedOption.getAttribute('data-amount'); var dataValue = checkedOption.getAttribute('data-value'); var action;
if ( formEl.contains(formEl.querySelector('.remove-me')) ) { formEl.querySelectorAll('.remove-me').forEach(function(el){ el.remove() }); }
if ( payment == "paypal" ) { formEl.action = "https://www.paypal.com/cgi-bin/webscr"; formEl.setAttribute('target', '_blank');
addHidden( 'currency_code', 'USD'); addHidden( 'cmd', ''); addHidden( 'return', "https://www.wonkette.com/st/Wonkettes_Hero"); addHidden( 'cancel_return', window.location.href);
if ( planType == "once" ) { checkedOption.value = dataValue; formEl.querySelector('input[name="cmd"]').value="_donations"; addHidden( 'business', 'rebecca@wonkette.com'); addHidden( 'item_name', 'Wonkette Donation'); addHidden( 'item_number', 'Just Once');
//add new params addHidden( 'a3', dataValue); addHidden( 'p3', 1); addHidden( 't3', 'D');
} else if ( planType == "monthly" ) { formEl.querySelector('input[name="cmd"]').value="_xclick-subscriptions"; addHidden( 'business', 'rebecca@wonkette.com'); addHidden( 'item_name', 'Wonkette Recurring Donation'); addHidden( 'item_number', 'wonkette_recurring');
//add new params addHidden( 'a3', dataValue); addHidden( 'p3', 1); addHidden( 't3', 'M'); addHidden( 'src', 1); addHidden( 'srt', 52); } formEl.submit(); } else if ( payment == "strip" ) { addHidden( 'entity_type', 1); addHidden( 'plan_type', 1); addHidden('entity_id', getSiteId() ); checkedOption.value = dataValue * 100;
if ( planType == "once" ) { formEl.action = "/core/payment/single_donation"; addHidden( 'plan_name', 'One Time Donation'); stripInit(amount, 'One Time Donation');
} else if ( planType == "monthly" ) { formEl.action = "/core/payment/recurring_donation"; addHidden( 'plan_name', 'Monthly Donation'); addHidden( 'plan', 'donation_' + amount); stripInit(amount, 'Monthly Donation'); }
}
} function addHidden(key, value) { // Create a hidden input element, and append it to the form: var input = document.createElement('input'); input.type="hidden"; input.name = key; input.value = value; input.className += 'remove-me'; formEl.appendChild(input); }
function stripInit(amount, description) { var token = function(res){ addHidden('stripeToken', res.id); addHidden('stripeEmail', res.email); formEl.submit(); };
if (amount) { StripeCheckout.open({ key: 'pk_live_7dJjNGbMgTkHfEasr9FsLcjF', // real //key: 'pk_test_zbMpaIyMyHJ7TLUEheC7q2iS', //test amount: amount, name: 'Wonkette', image: 'https://assets.rbl.ms/16950638/origin.png', description: description, panelLabel: 'Donate', token: token, locale: 'auto' }); } else { window.alert('Select donation amount first') } } });
function getSiteId() { var site_id = null; var inner = document.querySelector('html').innerHTML var str = inner.split('"site_id": '); if( str[1] != undefined ){ site_id = str[1].split(',')[0]; } return !isNaN(site_id) ? site_id : false; } }
formsHandling();
REBELMOUSE_STDLIB.createElementChangeListener(".show-more.js-expand:not(.processed)", (el) => { const keepReading = el; keepReading.classList.add("processed"); keepReading.addEventListener("click", function() { setTimeout(formsHandling, 500) }); });
});
});
window.REBELMOUSE_ACTIVE_TASKS_QUEUE.push(function(){
window.disqus_config = function () { this.page.identifier = "2657340584", this.page.url = "https://www.wonkette.com/baby-trump-junior-can-be-putin-loving-sycophant-garbage-moron-just-like-daddy"; }; var disqusCt = document.createElement('div'), disqus_config; disqusCt.id = 'disqus_thread'; (function () { var d = document, s = d.createElement('script'); s.src="https://wonkettecom.disqus.com/embed.js"; s.setAttribute('data-timestamp', +new Date()); (d.head || d.body).appendChild(s); })();
function loadCountScript(callback) { var s = document.createElement('script'); s.type="text/javascript"; s.async = true; s.id = 'dsq-count-scr'; s.src = "//wonkettecom.disqus.com/count.js"; var x = document.getElementsByTagName('script')[0]; x.parentNode.insertBefore(s, x); s.onload = () => callback(s); document.head.append(s); } loadCountScript(script => { /*Add comment Button to all articles*/ REBELMOUSE_STDLIB.createElementChangeListener(".share-panel:not(.js--has-comments)", (el) => { let sharesPanel = el; sharesPanel.classList.add('js--has-comments'); if (sharesPanel.closest('.article__shares')) { let postId = window.REBELMOUSE_BOOTSTRAP_DATA.post.id, postURL = location.protocol + '//' + location.host + location.pathname; addButton(postURL, postId, sharesPanel); } else if (sharesPanel.closest('.widget')) { let thisPost = sharesPanel.closest('.widget'), postId = thisPost.getAttribute('elid'), postURL = thisPost.querySelector('.widget__headline-text').getAttribute('href'); addButton(postURL, postId, sharesPanel); } }); });
function addButton(url, id, el) { var commentBtn = document.createElement('span'); //commentBtn.href = url; commentBtn.classList.add('js--toggleDisqus'); commentBtn.classList.add('disqus-comment-count'); commentBtn.setAttribute('data-disqus-url', url); commentBtn.setAttribute('data-postid', id); //commentBtn.setAttribute('data-disqus-identifier', id); commentBtn.innerText="0"; el.append(commentBtn); DISQUSWIDGETS.getCount({ reset: true }); //console.log(url, id); } REBELMOUSE_STDLIB.createElementChangeListener(".js--toggleDisqus:not(.js--callDisqus-processed), .show-more:not(.js--callDisqus-processed)", (el) => { console.log('run callDisqus()'); var timeOut = 10; if (el.classList.contains("show-more")) { timeOut = 1000; } el.classList.add('js--callDisqus-processed') el.addEventListener('click', function () { setTimeout(function () { let t = el, thisPost = t.closest('article') || t.closest('.js-section-loader-feature-container'), postId = t.getAttribute('data-postid'), postURL = t.getAttribute('data-disqus-url'); document.querySelector('#disqus_thread') && document.querySelector('#disqus_thread').remove(); if (t.closest('.article__shares')) { let postWrap = document.querySelector('.mobile-post-wrapper'); postWrap.appendChild(disqusCt); } else { let afterEl = t.closest('.widget'); if (afterEl) { afterEl.parentNode.insertBefore(disqusCt, afterEl.nextElementSibling); } } console.log('DISQUS.reset', postId, postURL); DISQUS.reset({ reload: true, config: function () { this.page.identifier = postId; this.page.url = postURL; } }); if (t.classList.contains('js--toggleDisqus')) { let disqus = document.getElementById("disqus_thread"); // disqus.scrollIntoView(); } }, timeOut) }); }); // Hide hidden tip-jar, idk why window.REBELMOUSE_STDLIB.createElementChangeListener(".js-keep-reading:not(.js-processed)", (el) => { let keepReading = el; keepReading.classList.add('js-processed'); //keepReading.closest('.mb-2').nextElementSibling.style.display='none'; });
});