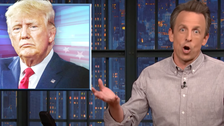 Donald Trump has virtually lost the power to shock or surprise, Late Night host Seth Meyers admitted Thursday.
But the comedian said he still "can't get over the fact" that Trump allegedly asked if the US could bomb drug labs in Mexico without being detected. Former Defense Secretary Mark Esper revealed the crazy idea of ​​the former president in his new memory.
"Imagine you are Mexico. The United States just held an election where they picked a host of a visibly insane game show who said horrible things about Mexicans and suddenly missiles start raining on you. Would you be disoriented? "Meyers asked.
Watch Meyers' full monologue here: