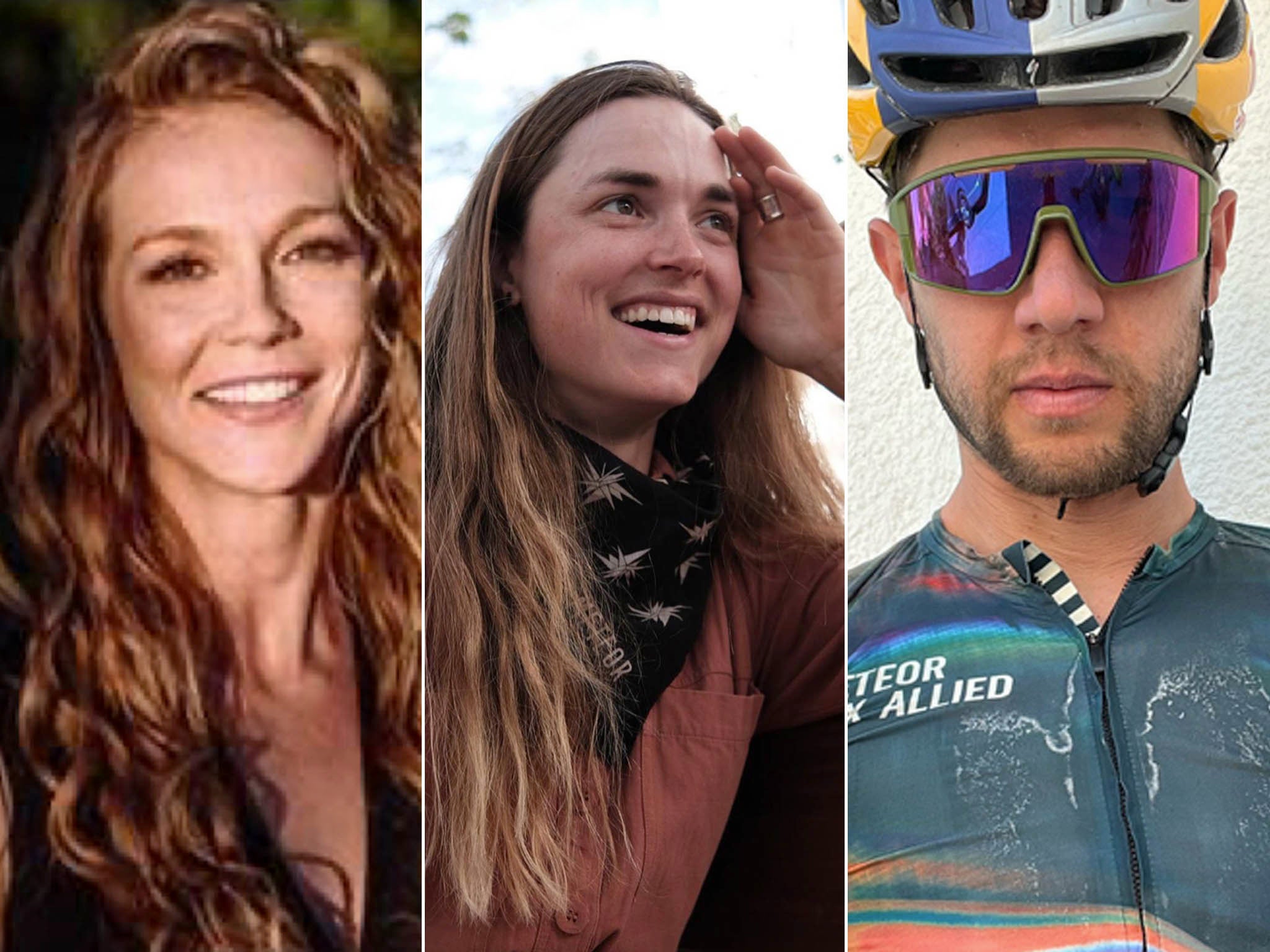 Kaitlin Armstrong, the yoga teacher who allegedly gunned down rising pro cyclist Anna Moriah "Mo" Wilson and then fled the country, is on trial in Texas where she faces up to 99 years in prison for the May 2022 slaying.
Ms Armstrong, 35, who has pleaded not guilty to the charges, remained emotionless as her murder trial got underway with explosive opening statements on Wednesday.
Wilson, a competitive gravel and mountain bike racer, was found dead at her friend's Texas home with gunshot wounds to her head and chest.
Prosecutors said the jury will hear how Ms Armstrong allegedly tracked Wilson before the murder after the two were reportedly involved in a love triangle with Colin Strickland.
The case drew international headlines when Ms Armstrong fled the country after her initial meeting with police just three days after the shooting. She was on the run for 43 days before being captured.
Testimony continued Thursday with jurors viewing a slew of graphic crime scene photos. The trial is expected to last at least two weeks.
1698954310
Who is pro-cyclist Anna Moriah 'Mo' Wilson?
Anna Moriah "Mo" Wilson, 25, a competitive gravel and mountain bike racer from Vermont, was found dead on 11 May in her friend's Austin, Texas apartment.
A month before her death, Ms Wilson beat 30 of the top gravel racing cyclists in the United States to claim the Fuego 80k at the Sea Otter Classic in Monterey, California.
Ms Wilson followed up that victory with a win at the Belgian Waffle Ride in San Diego on 30 April 2022 and arrived in Austin on 10 May as the favourite to win the Gravel Locos in Hico, a few days later.
She was staying at her friend Caitlin Cash's apartment on Maple Avenue, East Austin, and on 11 May arranged to meet fellow pro-cyclist Colin Strickland, who according to a police affidavit she had an on-again, off-again relationship with when he and his then-girlfriend Kaitlin Armstrong were on a hiatus.
The pair went swimming at the Deep Eddy Pool public aquatic centre in Austin before going for a meal at nearby Pool Burger, Mr Strickland, 35, told investigators. He dropped Ms Wilson off at her friend's home at around 8.30pm.
One minute later, a neighbour's surveillance camera captured Ms Armstong's Cherokee SUV outside the address.
Later that night Ms Wilson was found bleeding and unconscious with multiple gunshot wounds by the friend she was staying with. Despite attempts to resuscitate her, she was pronounced dead at the scene.
According to a police affidavit, Mr Strickland told detectives in a 12 May interview that Ms Armstrong had returned to their home in her SUV around 9.20pm.
Mr Strickland said he struck up a relationship with Ms Wilson in October 2021 when he and Ms Armstrong were on a brief hiatus. Texts between him and Ms Wilson showed that she was under the impression they were still dating.
According to the affidavit, a friend called police on 14 May to say that Ms Armstrong had learned of the "on again, off again" relationship in January.
Another caller, identified by the pseudonym Jane to shield her identity from Ms Armstrong, said she "became furious and was shaking in anger" and stated that she wanted to kill Ms Wilson. She began calling Ms Wilson and ordering her to stay away from her boyfriend, according to the affidavit.
In an interview with police, Mr Strickland said around that time he purchased 9mm handguns for himself and Ms Armstrong. He spoke in glowing terms about Ms Wilson's prospects as a pro-cyclist, describing her as the best gravel cyclist in the United States, and possibly the world.
He was not nearly as flattering about his girlfriend Ms Armstrong, also a "competitive" cyclist, telling officers he had asked her not to ride with him because she "holds him back".
Mr Strickland has cooperated with investigators and is not a suspect.
Andrea Cavallier2 November 2023 19:45
1698954296
Kaitlin Armstrong emotionless as jury views photos of Mo Wilson's bloodied face
Graphic photos are being shown in court of the crime scene that show a close up of Mo Wilson's shoes and blood stains.
Kaitlin Armstrong stares straight ahead, unflinching, according to News Nation's Alex Caprariello who is in the courtroom.
The courtroom remains silent as jurors are shown Wilson's injuries. One photo that has been blurred shows her bloodied face. Another is a close-up of her dress pulled up past her waist.
Andrea Cavallier2 November 2023 19:44
1698953410
Mo Wilson's family leaves courtroom as graphic crime scene photos are shown to jurors
Witness testimony continued on Thursday with a homicide detective and a crime scene analyst each taking the stand.
The courtroom was shown graphic photos of the crime scene which triggered crying from several of Mo Wilson's loved ones. Some of her family left the room.
Wilson's competitive bicycle was brought out for the jury to see shortly before court took a recess for lunch.
Andrea Cavallier2 November 2023 19:30
1698952810
ICYMI: Prosecutors say the last thing Mo Wilson did was 'scream in terror'
In explosive opening statements on Wednesday, Travis County prosecutor Rickey Jones told jurors that they would hear Wilson's final screams and the shots that killed her.
"The last thing Mo did on this earth was scream in terror," adding that nearby surveillance equipment captured the screams.
"Those screams are followed by 'Pop! Pop!'" Mr Jones said, smacking his hands together for emphasis. "You won't hear any more screams after that."
Seconds after those shots, Jones said, "Kaitlin Armstrong stood over Mo Wilson and put a third shot right into Mo Wilson's heart."
Andrea Cavallier2 November 2023 19:20
1698951610
A star cyclist was gunned down and a yoga teacher is on trial for her murder. Here's what we know:
Nearly a year and a half after Kaitlin Armstrong made international headlines for allegedly killing her romantic rival and then going on the run for 43 days, her murder trial is underway.
The Texas woman found herself at the centre of a love triangle with her boyfriend Colin Strickland and professional cyclist Anna Moriah "Mo" Wilson, who was found dead of multiple gunshot wounds at a friend's house on 11 May 2022.
Ms Armstrong was questioned by police just three days after the killing but once freed, she fled to Costa Rica leading the authorities on an intensive manhunt that ultimately ended in her capture despite her effort to disguise her identity with dyed hair and plastic surgery.
Andrea Cavallier reports…
Andrea Cavallier2 November 2023 19:00
1698951125
Kaitlin Armstrong's trial is underway in Austin
The murder trial of a Texas yoga teacher accused of gunning down her love rival and then fleeing the country began with explosive opening statements on Wednesday.
Kaitlin Armstrong, 35, is accused of killing Moriah "Mo" Wilson, a competitive gravel and mountain bike racer, in May 2022 in a jealous rage over a love triangle involving her boyfriend, Colin Strickland.
She has pleaded not guilty to the charges and faces up to 99 years in prison if convicted.
Andrea Cavallier2 November 2023 18:52