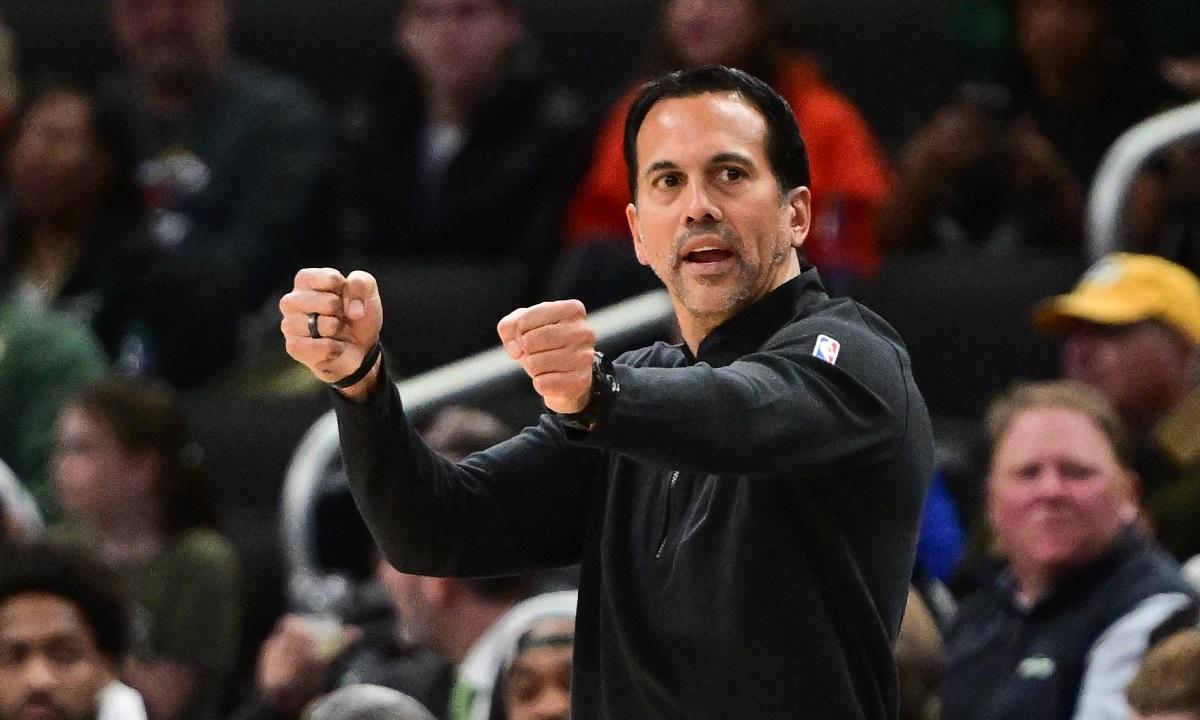 There's no panic in Miami.
But there is a sense of urgency.
The Heat lost three straight games—all on the road—and are set to return home on Wednesday night to face the Brooklyn Nets. It opens a three-game homestand that also includes the Washington Wizards and the Los Angeles Lakers.
"This is an important week for us," Heat coach Erik Spoelstra said. "We have a lot of work to do.
"We need to have a productive week with these three home games. We have to move the needle."
Miami's two-time All-Star center Bam Adebayo missed Monday's 122-114 loss at the Milwaukee Bucks due to a bruised hip.
"He tried to go through shootaround, but his mobility was nowhere near what it needed to be," Spoelstra said. "He will probably do 10 hours of treatment [on Tuesday]."
Heat role players Caleb Martin and Haywood Highsmith have yet to play this season due to knee injuries.
As for the Heat's three stars, Tyler Herro leads the team in scoring (25.3), Adebayo is second (22.7), and Jimmy Butler is third (15.3).
Herro, who was the subject of trade rumors for most of the offseason, had 35 points and eight rebounds against the Bucks.
"Tyler was assertive," Spoelstra said. "He was making the right plays. He was aggressive getting into the paint. He was making multiple efforts on defense, using his speed to close out shooters.
"He continues to grow as a young and emerging player."
Spoelstra is also happy with first-round pick Jaime Jaquez Jr., a 6-foot-7 forward who is averaging 5.3 points in 17 minutes.
"He's making great strides," Spoelstra said.
Meanwhile, the Nets are led by Cam Thomas, who is averaging 33.0 points. Entering Tuesday, his scoring average ranked fourth in the NBA, trailing only Stephen Curry (33.5), Donovan Mitchell (35.0 in only two games) and Luka Doncic (39.0).
Thomas was the 27th pick in the 2021 NBA Draft out of LSU. He flashed his scoring potential last season when he became the league's second-youngest player to post consecutive 40-point games, trailing only LeBron James.
Perspective is required as Thomas has played just three games this season. Still, he has long had a reputation as a scorer, and he is making 61.4 percent of his shots from the floor, which is absurd for a guard who is a high-volume shooter.
"He's the best bad-shot maker we have on this roster," Nets guard Spencer Dinwiddie said.
Thomas is also taking the ball to the rim more often. He's 13 of 13 on shots inside of two feet this season, showing a new level of aggressiveness.
Dinwiddie was ruled out Wednesday. He suffered a sprained ankle and left Monday's 133-121 win over the Charlotte Hornets.
In his place, the Nets are using a lineup with Lonnie Walker and Ben Simmons with Thomas.
The Nets are also without two other starters: center Nic Claxton (ankle) and forward Cameron Johnson (calf).
Without them, the Nets have gone to a small-ball lineup.
For size, the Nets on Monday started 6-6 Mikal Bridges, 6-7 Dorian Finney-Smith and 6-10 point guard Simmons.
Brooklyn still managed to out-rebound Charlotte 46-39. The Nets spread the floor and shot the ball exceptionally well at 56.3 percent.
"It was our spacing," Thomas said of the Nets, who also had a 17-2 advantage on first-quarter, fast-break points. "We played five out. We pulled their big men out, and that gave our guards driving lanes." — Field Level Media/Reuters