The luxury fashion brand is facing boycott calls after reportedly making the swap
Luxury fashion brand Christian Dior is facing boycott calls on social media after Turkish and Israeli sources reported on Monday that it had replaced Palestinian model and longtime brand ambassador Bella Hadid with Israeli model May Tager in its latest ad campaign. 
Neither Hadid nor the brand has commented on her alleged replacement, which was initially reported in Türkiye's Yeni Safak and an Israeli blog called Fashion Forward, raising questions of the reports' veracity even as there were calls to #BoycottDior on X (formerly Twitter). 
Tager appeared to be the star of the brand's new holiday campaign ad, according to posts shared on her Instagram last week. 
Hadid became the first Dior brand ambassador of Palestinian descent in 2016 and has repeatedly used her celebrity to advocate for Palestinian rights. However, she remained silent for several weeks after Hamas' October 7 attack and Israel's subsequent devastating bombardment of Gaza. In an Instagram post on October 26, she said her phone number had been leaked online, leading to her receiving "hundreds of death threats" every day.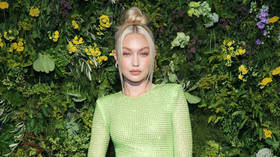 Writing in her first Instagram post following the declaration of war, Hadid vowed not to be intimidated, explaining, "The people and children of Palestine, especially in Gaza, cannot afford our silence. We are not brave – they are."
The model emphasized that she mourned for Israeli families who had lost loved ones on October 7, as well as the residents of Gaza who endured "generational trauma" above and beyond the immediate crisis.  
"It is important to understand the hardship of what it is to be Palestinian, in a world that sees us as nothing more than terrorists resisting peace," she wrote, describing her family's suffering during the Nakba, the forced expulsion of 750,000 Palestinians from their land in 1948 by the founders of the state of Israel.
There is an urgent humanitarian crisis in Gaza that must be attended to. Wars have laws – and they must be upheld, no matter what.
Hadid, whose siblings Gigi and Anwar are also models, revealed in 2021 that she had lost a significant amount of work by supporting Palestine and had even had friends leave her over her advocacy. While Dior has faced calls to drop her before, the brand did not previously give in.
You can share this story on social media: