The tabloid Bild described the incident as a "smooch attack" on Germany's top diplomat
Croatian Foreign Minister Gordan Grlic-Radman has been accused of "violence" and not knowing diplomatic protocol after an awkward attempt to kiss his German counterpart, Annalena Baerbock.
The incident, clips of which went viral on social media, occurred during a group photo of the participants of an EU ministerial meeting in Berlin on Thursday.
Cameras caught Grlic-Radman, 65, grabbing Baerbock, 42, by the hand and then apparently trying to kiss her, with the German minister moving away and avoiding his lips.
German tabloid Bild labeled the episode "a smooch attack" on Baerbock by her Croatian colleague. According to the outlet, she "turned away at lightning speed" in order not to be kissed.
Bild claimed that the embarrassing situation occurred because Grlic-Radman had been late for the photo, arriving after all the other ministers had already exchanged kisses. Members of Baerbock's team told the paper that what happened was just "a clumsy attempt to greet each other quickly."
The failed kiss caused a lot of anger in Croatia, with one of the country's leading newspapers, Jutarnji List, reporting on it with a headline reading "Shame," and insisting that Grlic-Radman should apologize to the German politician.
Croatian women's rights activist Rada Boric told the paper that Grlic-Radman's behavior was "highly inappropriate" and that Baerbock had been clearly left "surprised by such intimacy."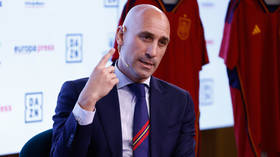 "Forceful kissing of women is also called violence, isn't it?," former Croatian Prime Minister Jadranka Kosor wrote on X (formerly Twitter).
A member of the Croatian parliament's committee for gender equality, Ivana Kekin, suggested that the country's foreign minister had "once again shown that he lacks diplomatic skills, knowledge of protocol and basic etiquette."
In response to the backlash, Grlic-Radman said that "if anyone saw something bad in this, then I apologize." However, he insisted that the kiss wasn't a big deal, explaining that "we always greet each other warmly. It's a warm human approach to a colleague."
Last week, football's governing body FIFA suspended former Royal Spanish Football Federation (RFEF) President Luis Rubiales from the sport for three years over his kissing a female player on the lips during the celebrations of Spain's victory in the Women's World Cup in August. Rubiales, who faced a sexual assault probe and had to resign as head of Spanish football over the incident, maintains that the kiss was consensual.
You can share this story on social media: