Former California governor and Hollywood star told Politico the "age factor" is of concern in next year's presidential election
Americans are looking for "something new" in the White House and are understandably worried about a 2024 presidential rematch between Donald Trump and Joe Biden due to the candidates' advanced ages, former California governor Arnold Schwarzenegger has said.
In an interview with Politico, the star of several Terminator movies, among others, said that, given the complexity of the problems the US is facing, the country needs "someone that has energy."
"We need new blood. I say, always, we need a new breed of leaders," Schwarzenegger told the outlet. "It's really because none of them are perfect and also because of the age factor."
Schwarzenegger also complained about the media's focus on Trump and Biden, saying it hinders other potential candidates from being able to "build a name" for themselves.
"When Biden holds a press conference, everyone covers it. And when Trump does something …even when he sneezes, they cover it," he said.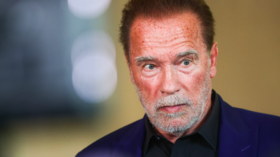 Schwarzenegger also raised the Biden and Trump age issue when he spoke with Axios to promote a new audiobook on the 2003 California recall election, which he won.
"The bottom line is, I think we need to find new leaders. To me they're both flawed and I just think we're at a time now where we need someone strong, where we need visionaries, and not people that tinker around with little Mickey Mouse stuff," he told Axios.
In June, the actor-turned-politician told CNN's Chris Wallace that he would run for president himself if he was legally allowed to enter the race. Schwarzenegger was born in Austria so is ineligible to run for the top job. He told Wallace that he could "see so clearly how I could win that election" and that it was a "no-brainer."
In a recent New York Times/Siena College poll, nearly three quarters of respondents (71%) said Biden was too old to serve effectively. Biden turns 81 later this month and was the oldest president sworn into office at 78 years old. Trump is currently 77.
READ MORE:
Schwarzenegger weighs in on 2024 US presidential race
Earlier this month, David Axelrod, the chief strategist for former US President Barack Obama's political campaigns, implied that Biden should reconsider running in 2024 due to "concern about the age issue," suggesting it was something the incumbent president "needs to ponder."
You can share this story on social media: