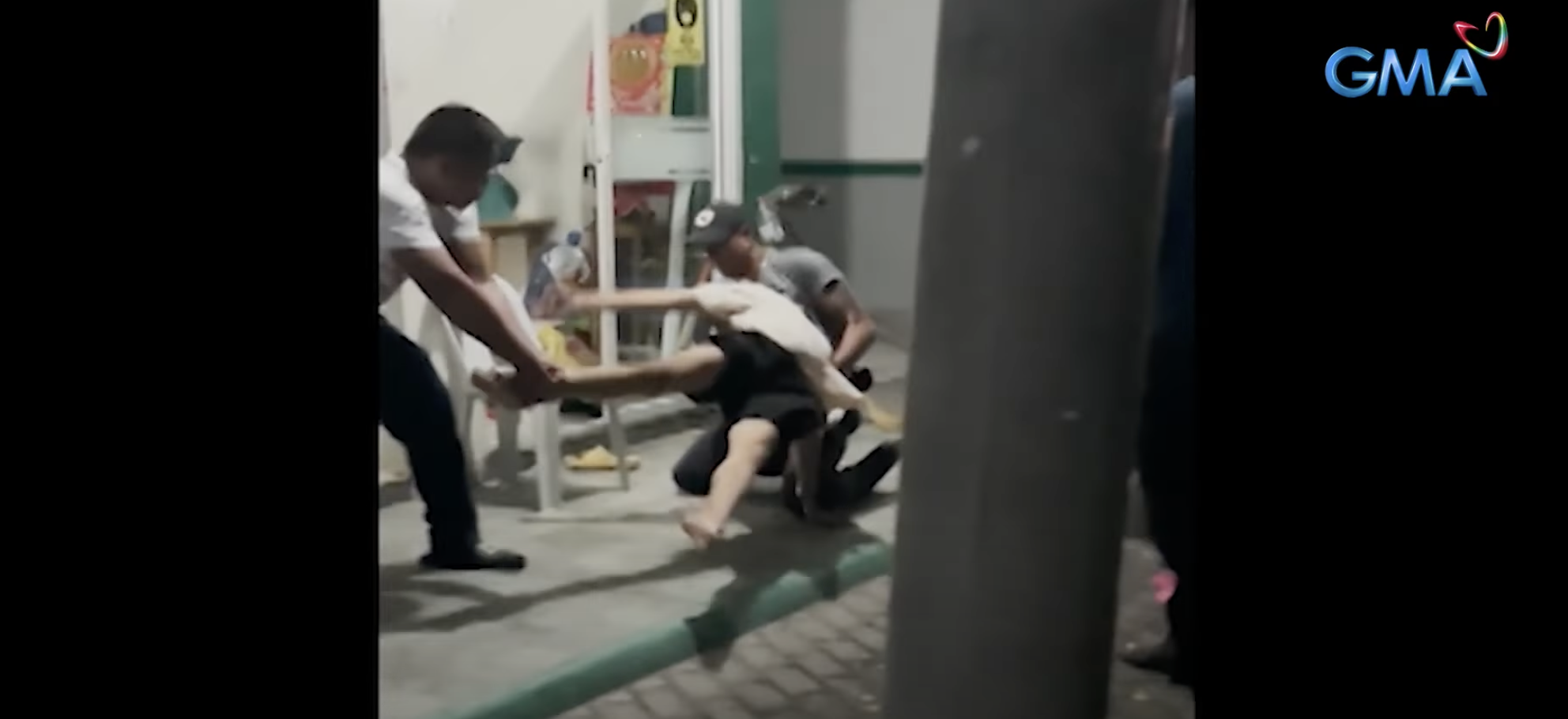 A video of a man said to be levitating when possessed by the devil recently went viral on social media.
In the latest episode of Kapuso Mo Jessica Soho's Gabi Ng Lagim XI, the team went to Koronadal City in South Cotabato to further understand the story behind the video. They were able to talk to the security guards, who were seen helping the man in the video.
Mark Templa thought the night of September 4, 2023 was just going to be one of his usual work shifts, but then a young man came in rushing.
A fellow security guard, Domingo Magdato Jr., said the young man, 'Mateo,' was asking for help when he suddenly fell to the ground, started spasming and then started floating.
A resident was able to record the hair-raising experience of the security guards.
"'Yung taas niya nang lumulutang siya parang mga two feet," Mark said. "Pula 'yung mata niya. Hindi nga ako tumitingin. Parang galit siya sa akin ba."
["He was floating—about two feet in the air! His eyes turned red and I couldn't look at him. He looked angry at me."]
"Ang sa isip ko, 'Iba talaga ito, demonyo talaga ang nagsapi nito'" he added, saying that Mateo was speaking in Latin while laughing.
["I think he was possessed by a demon."]
They applied oil, which was blessed with holy water, to his forehead, hands, abdomen, and feet while drawing a cross sign.
But 'Mateo' started to laugh.
"Nakakatakot 'yung tawa ng binata, nakakapanindig-balahibo talaga," Domingo said.
["The way he laughed was so scary."]
Then 'Mateo' also threw a chair at them, until eventually, the young man slowly went back to normal.
"'Yung umupo na 'yung bata, may usok na lumabas sa kanyang bunganga. After n'un, unti-unti nang bumabalik sa normal 'yung kanyang katawan," Domingo said.
["Smoke came out from his mouth when he sat down. After that, he went back to normal."]
Mateo's story
In his interview with KMJS, 'Mateo' said he came from a computer shop before the incident happened.
He was eating balut when he spotted three men.
"Malalaki sila, matatangkad, mahahaba 'yung buhok. Mapupula 'yung mga mata nila. 'Yung pisngi nila is malalaki. Nakatayo sila at nakatitig talaga sila sa akin. Sobrang kaba ko talaga," he added.
["They were tall and had big physiques. They also had long hair and red eyes. They stood there and stared at me which made me feel so nervous."]
His aunt, 'Maricel,' said 'Mateo' did not say anything to them when he arrived home.
"Pagdating niya dito sa bahay, wala siyang sinabi sa namin. Nakita namin ang video after three days," she said.
["When he came home, he didn't say anything. We just saw the video of what happened to him three days after."]
However, his other aunt, 'Amanda' said what happened was nothing new to their family.
When 'Mateo' was only 13 years old, he started seeing things that he couldn't explain.
During a family reunion, he said his deceased mother suddenly appeared and levitated in front of him.
'Camila,' his aunt, said that her worst experience with 'Mateo' was during an episode when he kicked eight of them.
When they asked who was inside the young boy's body, he answered, "Ako si Lucifer!"
["I'm Lucifer!"]
Later on, they shared that on both sides of their families, there were faith healers.
The video where 'Mateo' was allegedly possessed reached Fr. Rex Manlantao and Fr. Azul Lambatan, the exorcist priests of the Charismatic Episcopal Church in Gingoog City, Misamis Oriental.
Fr. Rex said that it was undoubtedly a possession. 
He went on to explain that demonic possessions are "very rare."
"There are some tinatawag na grave possessions, 'yung talagang sobrang malala na, like sumusuka na ng color green tapos may lumalabas na mga insekto sa katawan tapos sinusugatan na 'yung sarili nila," he said.
["There are what we call 'grave possessions'. There are cases of possession where the person's vomit is green. There were even cases where insects would come out of their body and end up hurting themselves."]
The two priests traveled for over 10 hours to help Mateo in South Cotabato.
"Isa sa mga reason bakit ang tao maging demon possessed is what we called the exposure of the occult practices. O kaya they have this what we called generational curses. Kung ang tatay mo ay mambabarang o ang nanay mo ay manggagamot, then 'yung mga spirits kasi na nandoon sa kanila, mapapasa yan sa next generation," Fr. Rex explained.
["One of the reasons why a person would be possessed by a demon is that they're exposed to occult practices or may be under a generational curse. If your parent, for example, was a faith healer, the spirits with them could be passed on to the next generation."]
When asked if he thinks he has been demonically possessed, 'Mateo' said, "Yes, Father, because nakikita ko sila, after ko ma-possess, parang pagod na pagod 'yung katawan ko."
["I think I was possessed by a demon because I saw them afterwards. I also felt so worn out."]
'Mateo,' however, had second thoughts about whether he should undergo a process called deliverance, saying he might lose the 'power' he supposedly inherited from his mother.
"Willing naman po po pero siguro, Father, may purpose kasi po kung bakit ako nagkakaganito, Father," he said. "May mga times kasi, Father, may gustong humingi sa akin ng tulong, Father."
["I think there's a reason why I have this kind of ability. There have been times where someone has for my help."]
Fr. Azul said, "Maiintindihan kita na gusto mong tumulong. Mabuti 'yun. Pero yung panggagamot mo does not come from God. Your gift obviously does not come from the Lord."
["It's good that you want to help others. But your ability to heal other people is not from the Lord."]
Mateo's possession
When the cleansing prayer started, 'Mateo' started to react. During the exorcism and deliverance, he was conversing in Latin with the priest.
And in the middle of the session, he suddenly started levitating again.
After the exorcism, 'Mateo' said that he was very tired, and Fr. Rex assured him that it was normal.
"The Lord demands your conversion talaga. The reason of all of these kasi gusto ni Lord na ma-establish 'yung relation ninyo. Magkaroon kayo ng tamang relationship kaya kailangan malapit ka sa kanya," he added.
["The Lord demands your conversion. The reason for all of these is that the Lord wants you to establish a relationship with Him."]
He also explained that the exorcism they did was to cast out the demon.
Experts weigh in
Psychologist Randy Dellosa said,  "Kapag sinasapian ang tao, nag-iiba ang boses o nagkakaroon ng lakas na unusual, yung sobrang lakas or else parang nagbabago ng anyo. These are things na mahirap i-explain ng science. Isang treatment para sa bata ay hindi lang pag-exorcise kundi emotional detox" 
["When a person is possessed, or his voice changes, or he starts having an unusual strength— these are things that are difficult for science to explain. Aside from the exorcism, an emotional detox could be helpful for the child too."]
Meanwhile, Jervey Gabriel Eugenio Lopez, a philologist and Latin expert confirmed that 'Mateo' responded in Latin to the priests during the exorcism. 
"Especially 'yung last part na Spiritus Sancti, na pinauulit-ulit niya in mockery of the priest. Maaari natin sabihin na may na-utter siyang words, in mockery or in reaction to the priest," he added
["He repeatedly uttered 'Spiritus Sancti' and other Latin words towards the last part to mock the priest."]
Dr. Rafael Martires also explained about a body's reaction during possession. 
He emphasized, "Safety is actually 'yun ang number one priority. Kasi not only 'yung safety nu'ng mismong pasyente, kundi safety din ng mga tao sa paligid."
["Safety is our number one priority. Not only the safety of the patient, but also the safety of the people around him."]
The aftermath
After the exorcism, 'Mateo' was advised to burn the "infested objects" his mother gave him so he could no longer use them.
The priests were also sure to exorcise the whole house.
"Paalala dito na huwag na tayo mag-attempt na gumamit ng mga ganitong pamamaraan lalo na sa mga nakapag-start na manggamot na they think na galing sa Diyos 'yung kakayahan nila na manggamot," Fr. Azul said.
["This is a reminder for those who think that their ability to heal others comes from the Lord."]
Fr. Rex said that it's the Lord's power that remains strongest.
"Ang kapangyarihan talaga ni Lord ang pinakamalakas sa lahat, walang iba. Kahit ilang demonyo pa 'yan, walang kaya 'yan basta sa power ni Lord."
["The Lord's power is the strongest. It doesn't matter how many demons will challenge that power; He will prevail."]
— Carby Basina/JAB/LA, GMA Integrated News