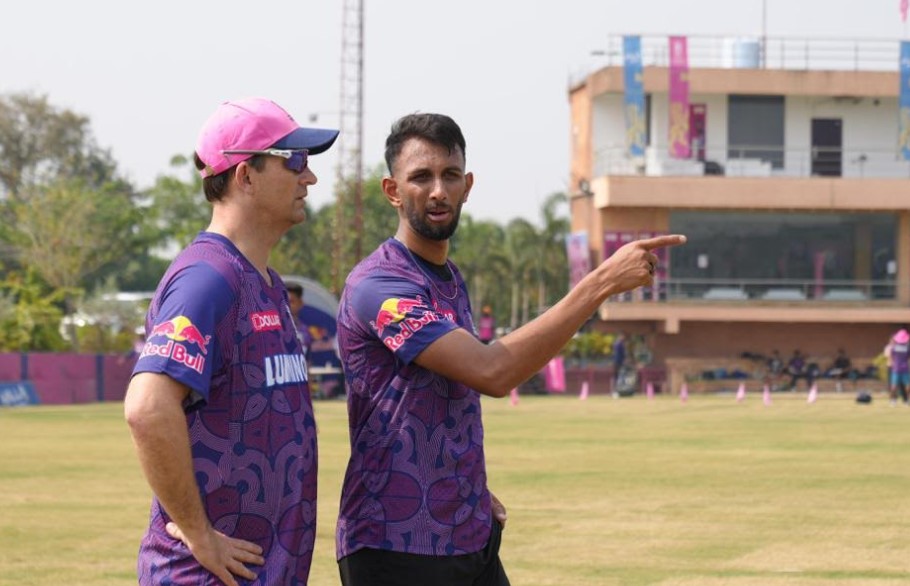 New Delhi: Since the conclusion of IPL 2023, the Royals have organized seven camps for their players in the off-season to assist them in preparing for bigger domestic and international competitions, the latest of which was held recently at the High Performance Center in Nagpur. Newly recruited Assistant Coach and Fast Bowling Coach, Shane Bond, kick-started work with some of the players including Prasidh Krishna, who was recently called up to the Indian team for the ongoing ICC Men's World Cup.
Sharing his first thoughts as a Royal, Bond expressed excitement at working alongside talented players in the team including Krishna. "Prasidh is a hugely exciting player with immense potential. It was good to have the chance to work with him and understand the way he ticks, the way he thinks about the game, and where he sees his own game at present. We also discussed what he wants to do going forward, and for me, it's about understanding how he wants me to work with him, and the improvements we can make to enhance his skills," said Bond.
He added, "I know he's gone through a back surgery which I also had, so it's something common between us, and I can understand some of the challenges that he's had, so the focus will be on making sure he's doing the right things and getting back to where he belongs – which is at the top."
Bond shared how the switch to the Royals came about, he said, "Obviously I was with another franchise for a long time, which was a good experience. In professional sport, some things come to an end, and so it created an opportunity for me to go somewhere else and explore my options. The chance to deal with a different crop of players seemed exciting from a personal point of view, and also reinvigorating from a coaching perspective."
"My initial conversations with Kumar (Sangakkara) and Jake (Lush McCrum) were pretty insightful. They took me through what the franchise was about, and what it stands for, and it made me see potential in the team in terms of improvements they can make and how I can contribute to their success," he added.
"It is really exciting to come to a franchise which is very analytically minded and focused on being a high-performance team, and that is similar to how I like to work. We've got a really good roster of players, and I'm already starting to work with them in the off-season which will put us in good stead for next season."
Coming from another franchise, Bond also revealed that it was easier to make the decision as he's familiar with a few people within the set-up. "I obviously know Sanga for a long time now, and then there's Giles (Director – Analytics & Technology) who I've worked with before among others. So it's a whole group of people who I've already got a relationship with. There's ofcourse Boulty (Trent Boult) and Jos (Buttler) who I've worked with before, and then an exciting group of talented players who I'm really looking forward to working with."
Speaking of what his impression of the franchise was from the outside, Bond said he always "found the Royals to be a tough team to beat". He added, "Being at Mumbai, the Royals were always a bit of a tricky team for us. I felt they recruited some great players especially at the last mega auction, and were very smart in the way they did things. When you looked at the team from the outside, you could see they were trying to be different and trying to find ways to get better, not just in terms of spending money, but in the way they think, so it's quite an interesting high performance set-up to be part of."
Bond also emphasized on the importance of off-season development for the players. "It is becoming increasingly important to engage with our team throughout the year. The IPL is the most competitive league in the world for a reason, and that means that we have to make sure our players are always performing at the highest level with consistent intensity so that when the season comes, they turn up in the best possible physical state," adding that facilities at the High Performance Center allow the players to get volume and variable practice under their belt.
He continued, "We also have the chance to see some of them playing across teams that fall under our franchise group, but it's important to make sure that we are working closely with the player, their national board, and ensuring everything is done in the best interests of the individual which can accelerate their growth and enhance performance."