Posted on November 3, 2023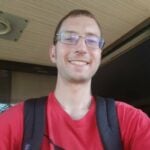 By Nick Bartlett, SuperWest Sports
Wise is the bettor who consults Nick's No-Nonsense Betting Tips before logging on to his sportsbook.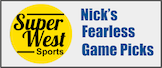 Last week was good for me—and for you, if you followed my advice.
I went 9-3, missing on the Arizona State-Washington State, Nevada-New Mexico, and Arizona-Oregon State games.
So where did I go wrong on those three?
Is ASU better than we thought or is WSU worse? Probably a little of both, but either way, it was a tough call. The Wolf Pack and the Lobos have been wildcards the last few weeks, and that one was a toss-up as well.
The Wildcards got me a little off-guard, I admit. I probably underestimated them a bit, and we're beginning to see that the Beavers may not be quite as solid on the road, having lost in Pullman and Tucson.
Even with those misses, I'm still an impressive  76-28 on the season.
But enough hindsight. It's time to look ahead to this week's games.
As always, my selections come with incredibly accurate game scores and just enough commentary to keep me from eating too much popcorn.
My bowl is already half-empty, so let's get on with the picks!
Colorado State at Wyoming
Friday, November 3
5:00 pm PT, CBS Sports
Outside of the Mountain West, this game may not get attention, but it's actually a pretty good matchup. Wyoming enters this contest having lost two in a row, but a win here, and they could still get ten.
The Cowboys are led by quarterback Andrew Peasley who's thrown for 1,055 yards and thirteen touchdowns in 2023.
It's scrappin time for Colorado State, led by quarterback Brayden Fowler-Nicolosi and wide receiver Tory Horton. If the Rams win this matchup, they're in a solid position to make a bowl, a loss, and they're treading suds.
Wyoming deserves a song and they didn't get one.
Cowboys by 11.
Wyoming 35, Colorado State 24
Arizona State at No. 18 Utah
Saturday, November 4
11:00 am PT, Pac-12
Iid Arizona State really beat my Cougs? It's a big win for the Sun Devils but shattered my hopes.
ASU needs to continue to rely on its upstart defense. They held Washington State to six points in the second half, Washington to 15, and haven't allowed a team 30 points in the month of October.
It should also prove interesting to see if Trenton Bourguet can stay fresh.
Utah learned last week that they won't be making the College Football Playoff but they're still tough.
The Utes scoring defense is ranked 18th in the nation, and they're led by a multitude of players including Jonah Elliss, Cole Bishop, and Junior Tafuna.
ASU may have knocked off the Cougs but Kenny Dillingham needs his former Oregon roster to beat Utah.
Utes in the MUSS.
Utah 31, ASU 17
Army at No. 25 Air Force
Saturday, November 4
11:30 am PT, CBS Sports
In this matchup, Air Force seeks to win the Commander-in-Chief's Trophy for the second year in a row.
The Falcons enter this contest 8-0 and are led by the nation's fourth-best scoring defense. The Air Force Academy is starting to blip on the national radar as they find themselves No. 25 in the CFP Rankings.
The Falcons also feature the nation's best rushing attack.
Army enters this game on a five-game losing streak. Not a lot has gone right offensively for the Black Knights in 2023, but their defense has proven decent, only allowing 25.5 points per game.
Their offense is led by quarterback Bryson Daily, but not really.
Air Force wins comfortably.
Air Force 30, Army 17
California at No. 6 Oregon
Saturday, November 4
2:30 pm PT, Pac-12
The only thing I know is that I don't know, but I felt California would compete and lose to USC again.
The only left for the Golden Bears to do is start winning. Cal's conference schedule has been brutal this year but they've run out of excuses.
The only logical argument I can make for the Bears is that they'll bring the "Band on the Field." That, and Jaydn Ott is pretty good.
UO feels like the most complete team in-conference but I still want to see a bit more out of their receiving corps.
Whant Whant, Ducks in a landslip.
Oregon 45, Cal 20
UNLV at New Mexico
Saturday, November 4
3:00 pm PT, Mountain West Network
Why did New Mexico lose to Nevada last week? I could've had 10 wins, and now C's get degrees.
For the Lobos, this contest provides an opportunity to save face. New Mexico's never been nationally prominent but they'll continually "Start from the bottom," if they don't pull off an upset here and there.
The Lobos will need quarterback Dylan Hopkins to bounce back from his three-interception performance.
UNLV looks to improve its road record after a defeat in the Valley.
The Rebels have been solid this year, and as long as they don't have a New Mexico-like blunder, they should be chillin.
I Like chillin. LV by 14.
UNLV 38, New Mexico 24
BYU at West Virginia
Saturday, November 4
4:00 pm PT, Fox
As I was writing my UNLV-New Mexico preview my friend looked at my screen and told me to pick BYU. The decision remains in the balance.
If the Cougars would like to win this contest they'll need to rely on a big game from Kedon Slovis. BYU lacks explosive playmakers which means Slovis will need to be on his alphabet soup.
The Cougs would also benefit from a big game from Chase Roberts.
West Virginia needs to rely on their 16th-ranked rushing attack. BYU's defense has been aight this year but they're in the bottom third against the run.
My friend may have told me to pick the Cougs, but they gotta find some playmakers first.
Take me home Mountaineers. WV wins.
West Virginia 27, BYU 23
Utah State at San Diego State
Saturday, November 4
4:00 pm PT, FS1
I feel like I lined up all my Mountain West previews in a row, or is this a time thing? For all intents and purposes, this is a NIT-bubble-like elimination match.
The Aztecs enter this matchup after arguably the worst performance of the Brady Hoke era. San Diego State's season feels like sinking stocks during the Enron collapse.
If SDSU would like to restore any credibility they must win this matchup. For Utah State, they've beaten who they're supposed to this year and nothing more. USU's led by their offense but they're still undecided on their quarterback.
At the beginning of the season, the Aztecs were supposed to beat the Aggies, and at this point, I don't know.
Feels like USU's signal caller situation. SD by five.
San Diego State 28, Utah State 23
No. 5 Washington at No. 20 USC
Saturday, November 4
4:30 pm PT, ABC
If USC didn't beat California last week that would've been embarrassing. Luckily for the Trojans, they found a way to escape.
Entering this contest, they'll need to put forth some sort of defensive effort. Alex Grinch is on the hot seat as a defensive coordinator.SC has enough talent that they shouldn't be one of the worst defenses in the nation.
Whatever it is, they gotta figure it out.
Washington has to exploit whatever the Trojans are still figuring out. The Husky offense may have taken a step or two back the last two weeks, but they still boast the best passing attack in the nation.
The trio of Rome Odunze, Ja'Lynn Polk, and Jalen McMillan (when healthy) have been uncoverable—and that likely goes double for one of the worst pass defenses in the nation.
If Cal hung up 50, the Dawgs might do it too. UW in a shootout.
Washington 45, USC 35
Stanford at Washington State
Saturday, November 4
6:00 pm PT, Pac-12
I'm going to break this game down from my Washington State fan perspective.
Four weeks ago, I thought the Cougars might have an outside shot to win the conference. As of last week, I don't know if I even want them to win the Apple Cup anymore.
The Cougs offense has disappeared as the season has gone on, likely due to their lack of playmakers. Cam Ward's a solid quarterback but WSU has few others on offense.
Stanford needs to win another Pac-12 game. The Cardinal have improved thirtyfold since their loss to Sacramento State but these are the type of wins they need to accelerate Troy Taylor's rebuild.
Quarterback Ashton Daniels has also been playing better.
I don't want to pick them, but Stanford's defense is atrocious.
Cougs win close.
Washington State 41, Stanford 31
Boise State at Fresno State
Saturday, November 4
7:00 pm PT, CBS Sports
In this contest, we have the old guard versus the new guard. But the old guard could become the new guard again.
In theory, Boise State could still win the conference. They only have one loss and after Fresno State this week, they play Air Force to end their slate.
If the Broncos want a season of destiny, they'll need to depend on Maddux Madsen. The former backup quarterback is 2-1 as a starter.
The Bulldogs need to know they're the better team. Mikey Keene feels like a more reliable leader than Madsen and FSU is better statistically.
But that Boise name still holds weight out west.
Is the Valley in the West? Dawgs by three.
Fresno State 24, Boise State 21
No. 16 Oregon State at Colorado
Saturday, November 4
7:00 pm PT, ESPN
Honestly, Colorado isn't really that good. They've improved leaps and jumps from last year but they couldn't block against UCLA.
Shedeur Sanders is phenomenal but he can't throw the ball in 0.2 seconds. Oregon State's defensive line isn't UCLA's, but the Beavers need this win, and the Buffaloes lack physicality.
If CU's going to compete in this game, they're going to need a few explosive plays from either Xavier Weaver or Jimmy Horn Jr. If they don't get that, then well, the Beavs are literally going to run all over them.
The Beavs are literally going to run all over them. Repeat sentence?
OSU by eight.
Oregon State 38, Colorado 30
No. 19 UCLA at Arizona
Saturday, November 4
7:30 pm PT, FS1
Hhe following is a chat thread between Senior Writer and Assistant Editor Dane Miller and I.
Dane: Six days until Arizona beats Oregon State
Nick: Idk Dane, OSU is good.
—A week later—
Dane: Five days until Arizona beats UCLA
Nick: Idk Dane, UCLA is good.
Last week Dane was sure as hell right, but I really feel UCLA's defensive line is underrated.
Arizona's coming in with a more stable quarterback in Noah Fifita, but you gotta have time to throw. This one should prove to be a fun semi-rivalry of teams with similar talent levels.
But I gotta go with the baby blue in this one, Bruins by one.
UCLA 21, Arizona 20
---
—More from Nick Bartlett—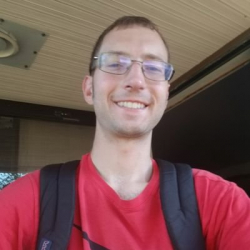 Latest posts by Nick Bartlett
(see all)