From a movie night out to having a gaming session with your colleagues, there are plenty of ways to bond with your team.
However, if you want to challenge your teamwork while you're at it, here are some activities in the Klang Valley that will do just that.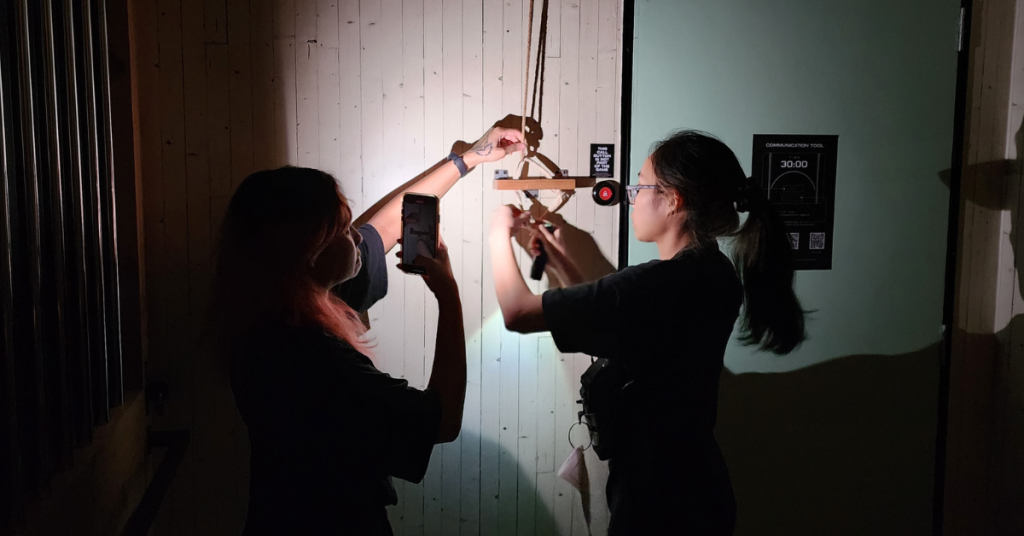 Home to immersive escape rooms, BREAKOUT's puzzle-laden activities are great ways to test you and your team's camaraderie and teamwork.
BREAKOUT offers team building packages with corporate rates with a minimum number of 20 players or at least two sessions. Small teams can also opt to book through regular means.
There are three BREAKOUT locations around the Klang Valley, with each one offering different experiences and concepts.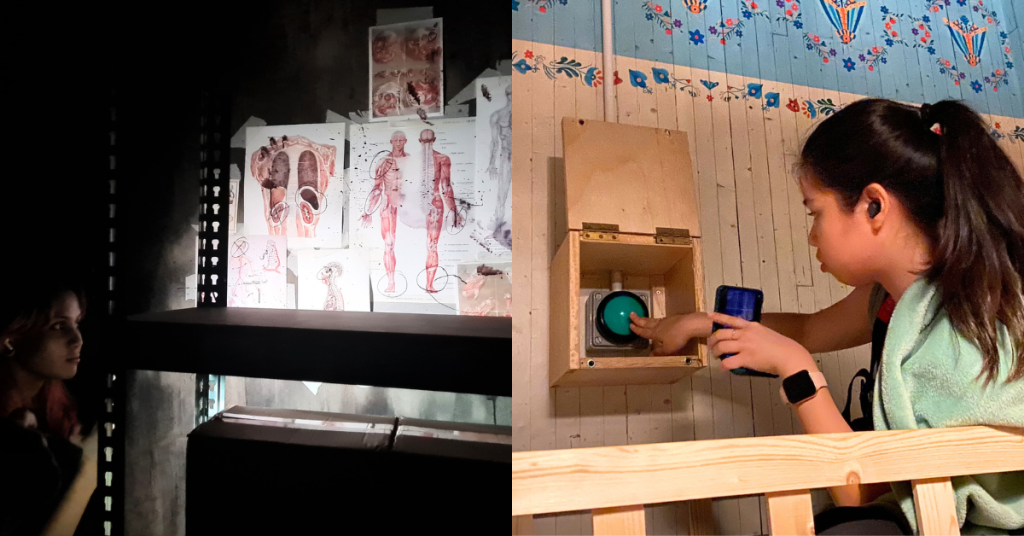 There are a variety of rooms and stories to explore at each location. At the Nu Sentral outlet, an interesting one is Perpetual where you'll be tasked to steal an artefact. It only has a 15% success rate!
The newest room at Avenue K is Post Mortem. The story is set in Kansas, a few days before Christmas, and involves homicide cases.
The Vulcan Post team has experienced some of BREAKOUT's escape experiences ourselves, with the latest one being its SPY Game, offered at The Curve.
SPY Game involves a very well-fleshed out and interactive plot. It's a bit more physical compared to the regular escape rooms, plus there's the element of sneaking around to avoid being caught.
Delegation, trust, and decision-making were some of the skills tested during our SPY Game experience, which you can read more about here.
Where to book: Website
Price: Corporate rates start at RM34/pax
Number of players: Minimum 20 players for a package
Location:
Breakout Nu Sentral: L4-09A, Level 4, Nu Sentral, Sambathan,, 201, Jalan Tun Sambanthan, 50470 Kuala Lumpur
Breakout Avenue K: Avenue K, Jalan Ampang, Kampung Baru, 50450 Kuala Lumpur
Breakout The Curve: 256, Level 2, The Curve, 6, Jln PJU 7/3, Mutiara Damansara, 47810 Petaling Jaya, Selangor
Hours: 10AM to 10PM daily for Breakout Nu Sentral and Breakout Avenue K; 10AM to 9PM daily for Breakout The Curve
One of the newer activities at Berjaya Times Square, The Bomb Battle is touted as a place where "the world's largest paint bomb" awaits players. This experience offers immersive mission games as well as the opportunity to get blasted by paint at the end.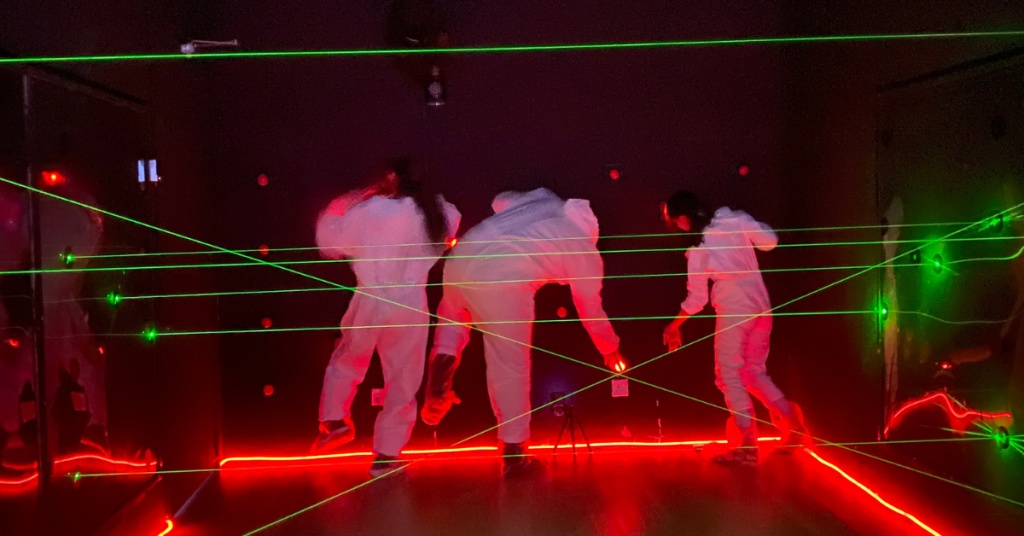 The immersive games include some physical challenges like dodging lasers, as well as mental ones such as cracking memory codes.
It involves a lot of cooperative play, which makes this a good one for team building. Things can get quite heated, but it's all in the name of fun. Gearing up in matching hazmat suits makes for a unique opportunity for interesting team photos, too.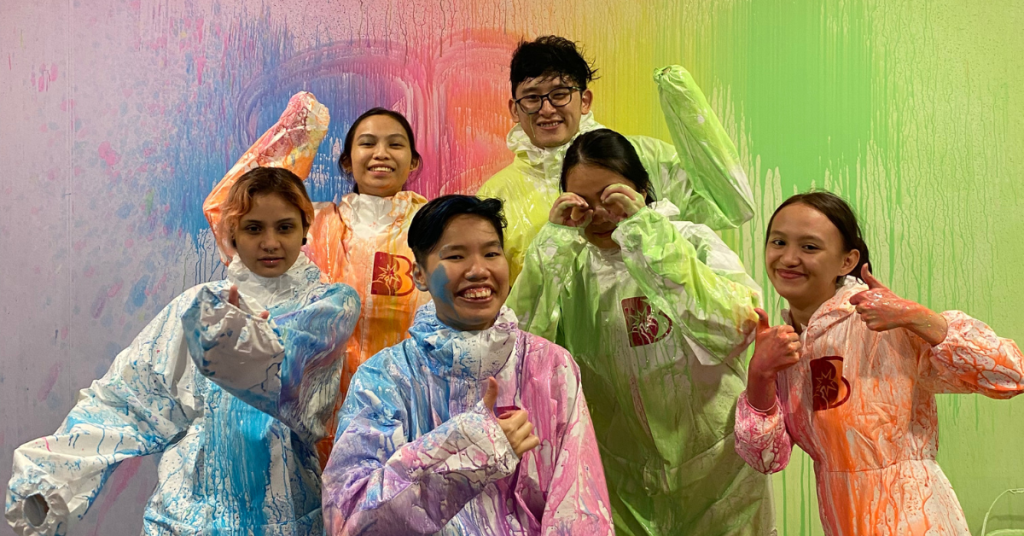 Having experienced this ourselves, we can say that Bomb Battle truly puts communication skills to the test. You can read our full review here.
Where to book: Website
Price: RM89/pax to RM259/pax depending on the package
Number of players: Maximum 15 players for regular bookings, with larger bookings possible through requests  
Location: Lot 07-96, Level 7, East wing, Berjaya Times Square, Shopping Mall, 1, Jln Imbi, Imbi, 55100 Kuala Lumpur
Hours: 10AM to 10PM daily
First launched in Singapore back in 2005, Palate Sensations began as a way to teach people how to cook, bridging the gap between a home gourmand and a professional chef.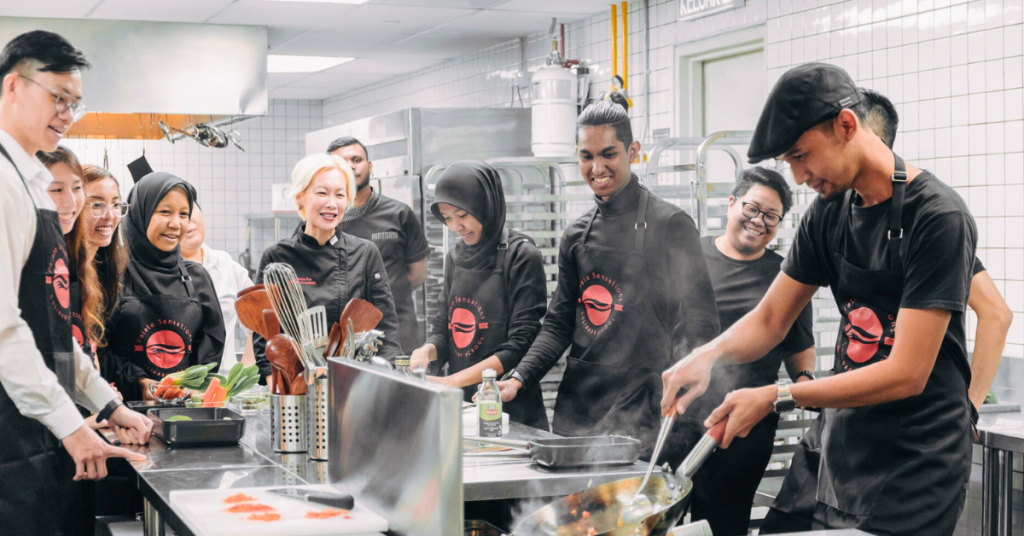 Today, its specialty lies in offering culinary team-building experiences.
Palate Sensations has eight different programmes built around teamwork, cooperation, coordination, communication, and leadership. Some activities include a restaurant simulation experience, baking classes, and even cooking challenges to foster that healthy dose of competition.
The Palate Sensations team is also open to catering their programmes to the team based on the objectives.
Where to book: Website, WhatsApp
Price: Starts at RM250/pax
Number of players: N/A
Location: Unit 01-20, Glo Damansara, 699, Jln Damansara, Taman Tun Dr Ismail, 60000 Kuala Lumpur, Wilayah Persekutuan Kuala Lumpur
Hours: 10AM to 10PM, Monday to Friday
As its name suggests, Kitchen Showdown is another kitchen-related team bonding establishment, but this one offers a variety of competitive activities.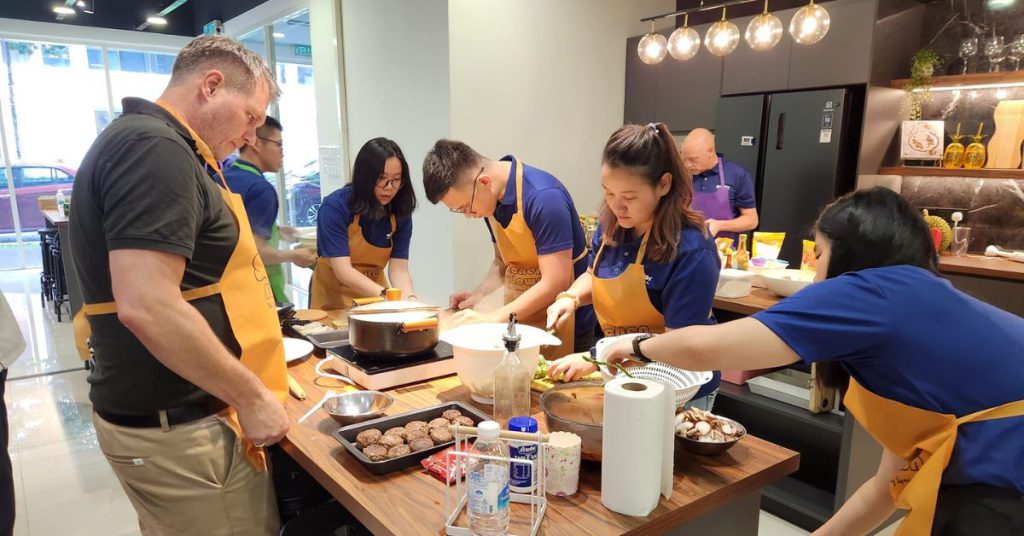 Founded in 2015, Kitchen Showdown integrates the "power of play" with culinary challenges to encourage team spirit and collectiveness.
The programmes offered here are quite interesting, including some you may have seen on TV, such as Mystery Box Challenge and Amazing Race.
The Mystery Box Challenge, for one, involves working in teams to come up with a three-course meal, using random ingredients found in a mystery box.
Don't worry if your team's culinary prowess is lacking, though, as there are beginner to difficult levels, with the easiest option coming with full recipes and guidance from a chef.
Where to book: Website
Price: N/A
Number of players: N/A
Location: N-09-01, Pusat Perdagangan, Persiaran Jalil 3, Bandar Bukit Jalil, 57000 Kuala Lumpur
Hours: N/A
Based in Berjaya Times Square, Escape Game offers a variety of different corporate packages centred around its escape rooms. According to its website, Escape Game's missions have been experienced by 70,000 teams since 2013.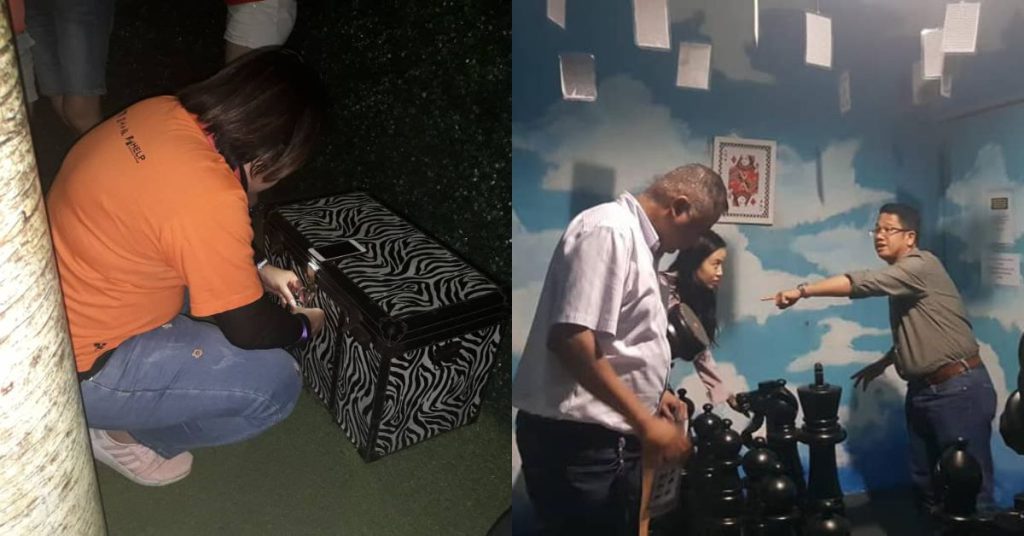 Specifically, it has six different escape room games available:
Art thieves: The art of stealing
Amazon Forest: Raiders of the lost fortune
Murder Mystery: The locker room scene
The Haunted Prison 1291
Vlad's Castle: The Bloody Escape
Shangri-La: Dream or Reality?
Based on the size of the team and their objectives, Escape Game has a range of packages to choose from. For example, the Time Attack Challenge involves two rounds of escape games where participants are given a specific mission each round to complete within a time limit.
Meanwhile, the Interactive Escape Game offers a combination of interactive and intellectual team building exercises that focus on communication, training task delegation, and interpersonal skills. This involves a minimum of six to 12 interactive games.
Escape rooms aside, there's also Escape Sports. Escape Game owns an indoor badminton complex and thus can organise friendly matches or tournaments for corporates.
Escape Game's offerings are ideal for bigger companies, with some packages being able to accommodate up to 500 players.  
Where to book: Website
Price: Available upon enquiry
Number of players: Up to 500 players
Location: Level 7, Berjaya Times Square Mall 1, Jln Imbi, Imbi, 55100 Kuala Lumpur
Hours: 11AM to 8PM from Monday to Thursday; 11AM to 9Pm from Friday to Sunday
Escape Petaling Jaya, the theme park located at Paradigm Mall, offers a bunch of activities for kids and adults alike. There are things like Slingshot and Aerobat for the daredevils, and Jumping Jack and Monkey Business for some tamer adventures.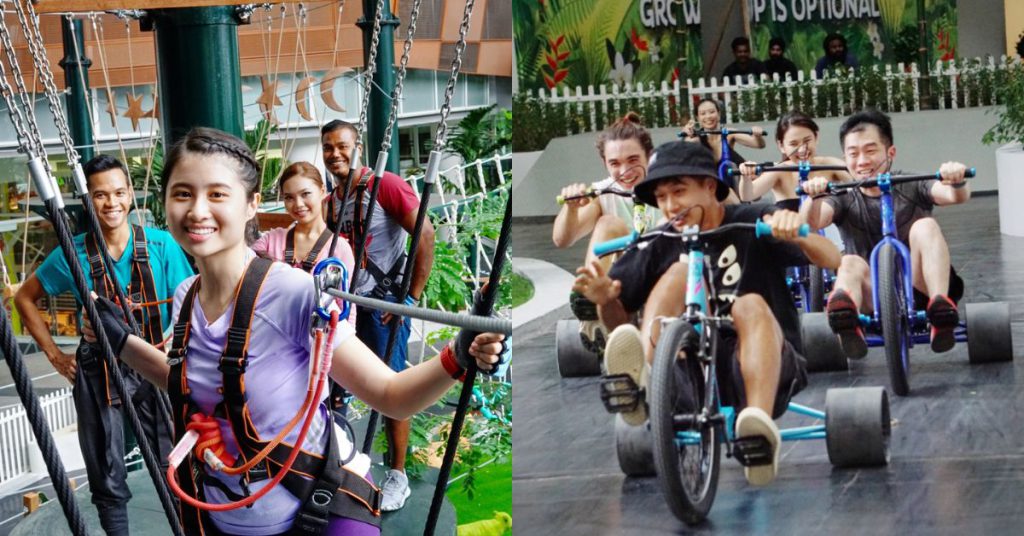 For corporate building purposes, it has a Teamplay programme that's designed to reintroduce fun into learning and the building of capability through shared experiences.
It's able to facilitate groups as small as 10 to teams as big as 1,000 (or even more). The Teamplay programme comes with challenges, group facilitators, as well as optional add-ons like private spaces for meetings.
Where to book: Website
Price: Available upon enquiry
Number of players: From 10 to 1,000+
Location:  No.1, Jalan SS7/ 26A GB-07, Boulevard, Level G, Paradigm Mall, Ss 7, 47301 Petaling Jaya, Selangor
Hours: 10AM to 8PM, closed on Mondays
Located in Sunway Pyramid Mall, Galactic Laser is a laser tag centre with special packages for corporate team building sessions.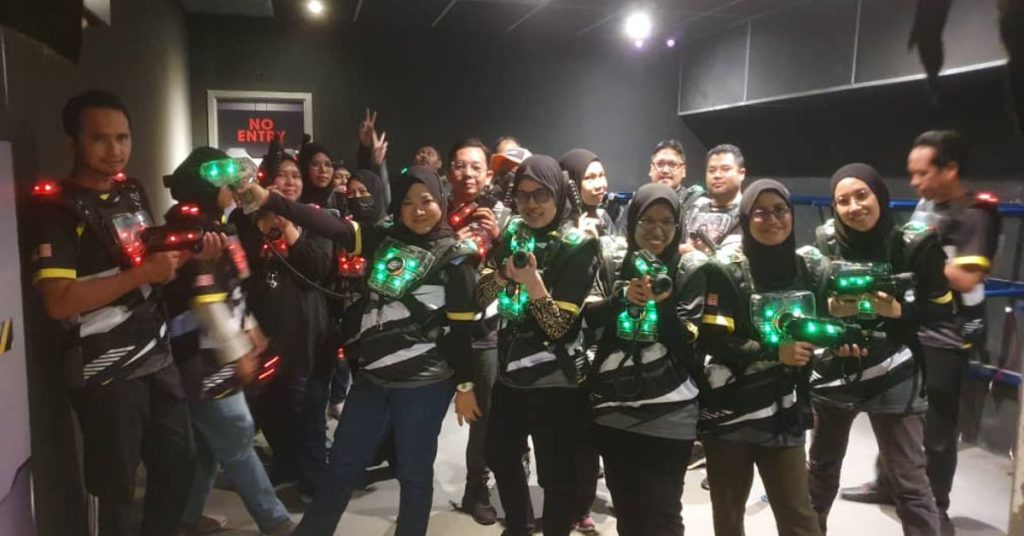 The standard package includes three hours of laser tag per person, along with two hours of its function room and complimentary light refreshments.
For teams who want more food, though, there's also a Hi-Tea package or one with lunch or dinner. These packages also include usage of Galactic Laser's karaoke.
Food options at Galactic Laser include local delights like chicken curry, prawn sambal, and nasi lemak, as well as bites including doughnuts, fish balls, chicken drumettes, and more.
Where to book: Website
Price: RM70/pax to RM110/pax depending on the package
Number of players: Minimum 20 players
Location: LB2, 06, 3, Jalan PJS 11/15, Sunway Pyramid, 46150 Subang Jaya, Selangor
Hours: 10AM to 10PM from Sunday to Thursday; 10AM to 11PM from Friday to Saturday
What is work but a battlefield, and what are colleagues if not your fellow soldiers? Canyon Paintball lets you blow off some steam while encouraging team bonding as you work with each other to take your opponents out.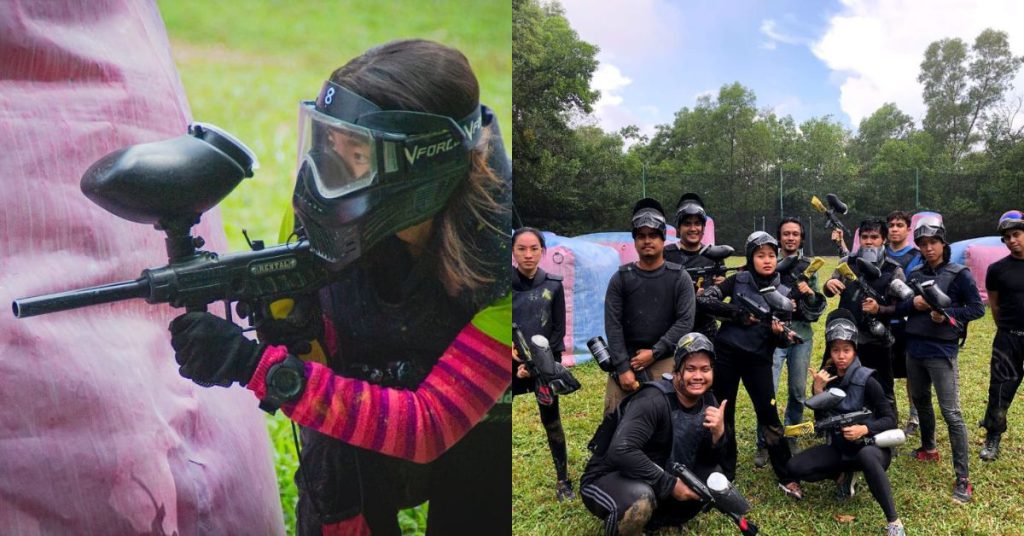 Located at Bukit Changkat, Canyon Paintball is home to 20 acres of paintball terrain. There'll be marshals at the location to guide groups, so don't worry if you're a newbie.
Where to book: Website
Price: Starts at RM130/pax
Number of players: N/A
Location: Changkat Bukit Utama, Bandar Utama, 47800 Petaling Jaya, Selangor
Hours: 9AM to 5PM on Saturday and Sunday
Read other articles we've written about Malaysian startups here.
Featured Image Credit: Canyon Paintball / Vulcan Post / Vulcan Post