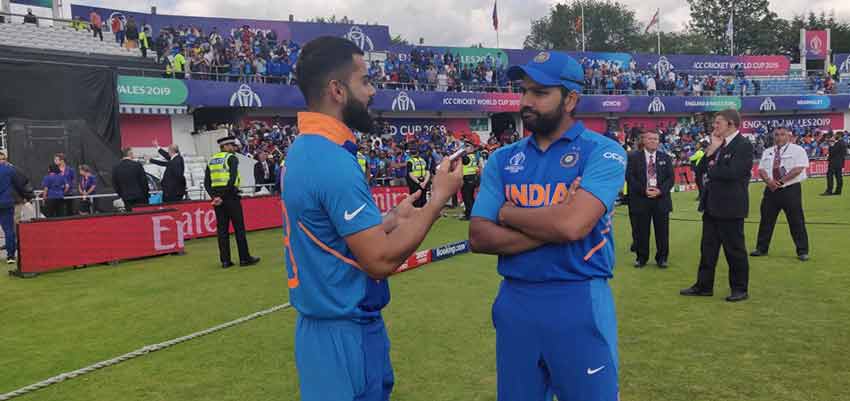 Mumbai: In a stunning display of cricket prowess, India's Virat Kohli clinched his 50th century, marking a historic milestone while leading his team to a commanding victory. Supported by the outstanding performance of fast bowler Mohammed Shami, who took an impressive seven wickets, the undefeated hosts secured a resounding 70-run win against New Zealand, solidifying their spot in the World Cup final.
At Mumbai's Wankhede Stadium, Kohli's remarkable 117-run innings, complemented by Shreyas Iyer's explosive 105, propelled India to an imposing total of 397 runs—a performance reminiscent of their triumphant 2011 World Cup victory at the same venue.
Speaking about their astounding win, India captain Rohit Sharma said that since he has played a lot of cricket on this ground, he knew any score on this ground wouldn't be enough. "You can't relax. You've got to get the job done quickly and stay at it. We knew there would be pressure on us. We were very calm, even though we were a bit sloppy on the field. These things are bound to happen, but we're glad we could get the job done," said Sharma, adding that it would be hard to say if India would've been in trouble had they scored 30-40 less.
"They wouldn't have taken those risks. Williamson and Mitchell batted brilliantly. It was important for us to stay calm. The crowd went silent, but we knew we needed a catch or run-out. Shami was brilliant. The form all the guys are in, the top five-six batters, whenever they've gotten an opportunity, they've made it count. We're very pleased to see what Iyer has done for us in this tournament. Gill, the way he's batted for us, has been brilliant. Unfortunately, he had to go off with cramps. Kohli did what he does, also got to his landmark century as well," said the skipper.
"In the England game, we got 230 on the board. The way bowlers bowled with the new ball was amazing. Today, obviously, being the semifinal, I won't say there was no pressure; whenever you play, there's pressure. The semifinal adds a bit extra, but we wanted to not think too much about it, just do what we've been doing like in the first nine games. Things came off for us nicely in the second half," said Sharma.
Mohammed Shami, who was the Player of the Match for his figures of 7 for 57, said, "I was waiting for my chances. I didn't play a lot of white-ball cricket. My return started against New Zealand in Dharamsala. We talk a lot about variations, but I still believe in pitching it up and getting wickets with the new ball. I dropped Williamson's catch; I shouldn't have. I felt terrible. But the focus was to try and take pace off, see if they're hitting it in the air. It was a chance we had to take with the variations."
"The wicket was very good; lots of runs were scored in the afternoon. There was some fear of dew; the grass had been shaved off from the wicket. If dew was there, it skids on, and there's a chance runs could've been made. It feels amazing with this kind of performance. In the last two World Cups, we lost in the semifinals. Who knows when or if we'll get a chance, so we wanted to do everything for this one chance we didn't want to let go," said Shami.