A decade-old platform that aims to advance artistic positions reflecting on the impact of new technologies on people and culture, WSK is celebrating the 10th edition of Festival of the Recently Possible with a diverse chain of events that showcase the cross-sectional relationships between art, sound, and technology with artists from across the globe, from October 15 to October 28 at multiple locations in Manila.

A variable, ever-shifting, in constant flux, WSK X will unveil its biggest partnership yet with like-minded organizations across the globe: Nusasonic. A creative collaboration between YES NO KLUB (Yogyakarta), WSK Festival of The Recently Possible (Manila), Playfreely/BlackKaji (Singapore), CTM Festival (Berlin), Nusasonic is a multi-year project that plunges into a broad spectrum of experimental sound and music cultures in Southeast Asia, enabling dialogue not only within the region but also with Europe. Nusasonic is an initiative of Goethe-Institut Southeast Asia.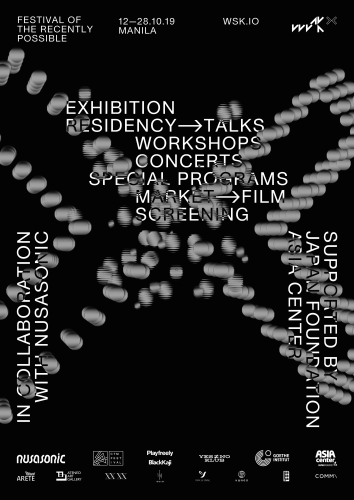 "Bridging aural cultures across Europe and Southeast Asia in one huge festival is impossible to do alone. Individual networks are much less effective than a combined effort of different networks working for one goal. WSK has been doing various cultural initiatives for a decade now, but with the help of our network from Nusasonic we can do more ambitious projects from this year and beyond," WSK founder Tengal Drilon said.
A discovery into the different potentials of sound through art, technology, and peculiar settings, WSK X is a haven for unorthodox music tastes, with events held in abandoned streets, virtual spaces, and Manila's last lung. WSK founder Tengal Drilon revealed that he has been rethinking WSK's relevance as a festival.
"In the face of biennales and huge art spectacles, we always ask if our festival still engages people in a meaningful way. We're thinking maybe we should change the format, while still continuing international-based exchanges. We still don't know the answer, but we definitely seek more lasting social impact in our programming," shared Drilon.
"The goal for WSK is to continue. Before, our festivals were spectacles. Now, we're shifting to the more educational aspect and the active engagements. Our workshops and hacklabs are the highlight because it's where the public can learn and engage in an equal level, even allowing their art to be presented for the first time," Drilon added.
WSK X will kick off with Stay: Sine Wave Orchestra Exhibition, a participatory installation open to the public, which will be held at the Areté on October 15th. Supported by the Japan Foundation Asia Center under the Grant Program for Promotion of Cultural Collaboration, WSK X will be holding a series of concerts, residencies, hacklabs, exhibitions, workshops, forums, and open art science projects, having wider global collaborations through its joint program with Nusasonic.
Related