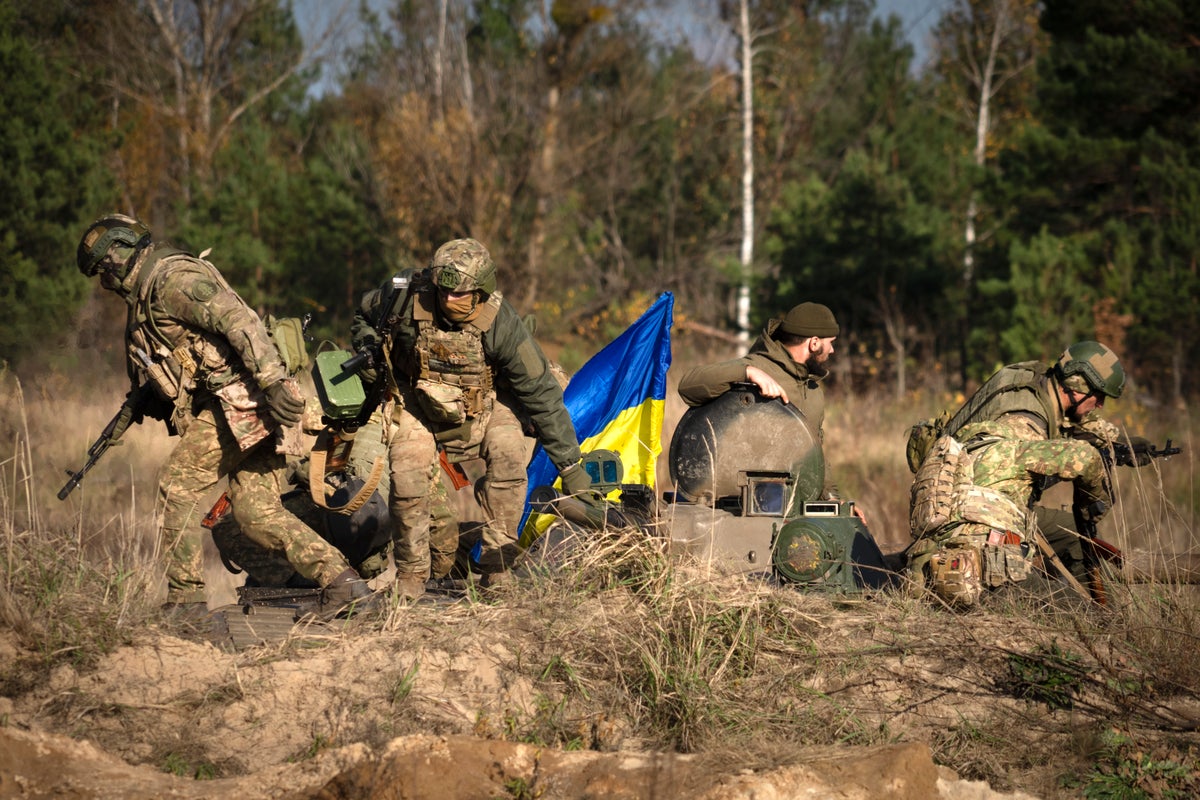 Aftermath of Russian missile strike on Ukraine mail depot that killed six
Ukraine's commander-in-chief Valery Zaluzhnyi has revealed that his assistant and close friend has been killed in an explosion apparently caused by a birthday present.
The country's interior minister claimed that Major Hennady Chastyakov died in a blast caused by Western grenades gifted to him by a colleague, and that an investigation was under way. His 13-year-old son was also reported to be seriously injured.
It came as Ukraine mourned the loss of 19 soldiers killed in a Russian strike at an awards ceremony in the Zaporizhzhia region last week. Volodymyr Zelensky has ordered an investigation into the "avoidable tragedy".
Meanwhile, the country's deputy foreign minister condemned what he said was an attack on Odesa's National Art Museum.
At least five people were injured and the walls of the museum – a Unesco World Heritage site – were damaged when it was attacked by drone, Ukraine officials said.
Earlier, Reuters reported that Russia's Vladimir Putin has decided to run for president again next year. But the Kremlin has denied the report, saying Mr Putin had not decided on his future and no announcement had been made.
1699345608
Russia formally withdraws from post-Cold War security treaty
Russia has formally withdrawn from a landmark security treaty which limited key categories of conventional armed forces, blaming the United States for undermining post-Cold War security with the enlargement of the Nato military alliance.
The 1990 Treaty on Conventional Armed Forces in Europe (CFE), signed a year after the fall of the Berlin Wall, placed verifiable limits on categories of conventional military equipment that Nato and the then-Warsaw Pact could deploy.
The treaty was designed to prevent either side of the Cold War from amassing forces for a swift offensive against the other in Europe, but was unpopular in Moscow as it blunted the Soviet Union's advantage in conventional weapons.
But Russia's foreign ministry said it had formally withdrawn from the pact and that the treaty, signed in an era when "cooperation seemed possible", was now "history".
Alexander Butler7 November 2023 08:26
1699340340
Zelensky says Israel-Gaza war is 'taking away focus' from Russia's invasion of Ukraine
Ukrainian president Volodymyr Zelensky has admitted that the war in Israel and Gaza is "taking away the focus" from Russia's full-scale invasion as he denied suggestions that the conflict in eastern Europe had reached a stalemate.
Speaking at a briefing in Kyiv on Saturday alongside European commission president Ursula von der Leyen, Mr Zelensky said Russia wanted the focus on Ukraine to be "weakened" but added that "everything is [still] in our power".
Mr Zelensky has offered to visit Israel, though he has admitted it is "difficult" because it depends on "what's happening on the battlefield" in Ukraine, which he said remains "hot".
My colleague Tom Watling has more here:
Andy Gregory7 November 2023 06:59
1699336620
Full report: Russian drone attack damages 124-year-old art gallery in Odesa
A 124-year-old art museum was damaged as Russia launched a barrage of drone attacks in Ukraine's port city of Odesa, injuring at least five people and setting trucks with grain on fire, my colleague Alisha Rahaman Sarkar reports.
"On November 6, the Odesa National Art Museum turns 124 years old," said Oleh Kiper, governor of the Odesa region. "On the eve of November 6, the Russians 'congratulated' our architectural monument with a missile that hit nearby," he added.
The walls of the building were damaged while some windows and glass were broken, according to the governor.
The drones reportedly damaged port infrastructure, including warehouses and loading equipment, before Ukraine downed 15 Russian drones over the city, the authorities said.
Andy Gregory7 November 2023 05:57
1699332660
Watch: Russia tests intercontinental ballistic missiles from new submarine
Russia tests intercontinental ballistic missiles from new submarine
Andy Gregory7 November 2023 04:51
1699328640
Wagner mercenaries training in Chechnya, Kadyrov claims
A large group of Russia's former Wagner mercenaries has started training with special forces from the southern Russian region of Chechnya, Chechen leader Ramzan Kadyrov said on Monday.
Wagner played a prominent role in some of the fiercest fighting of Russia's war in Ukraine, but its future was thrown into question when its leader Yevgeny Prigozhin was killed in a plane crash in August, two months after leading a brief mutiny against the Russian defence establishment.
Kadyrov said in a message on Telegram that a big group of ex-Wagner fighters was undergoing intensive training with his own Akhmat special forces.
"I am glad that today the ranks of the famous (Akhmat) unit have been joined by fighters who have excellent combat experience and have proven themselves as brave and efficient warriors," he said.
"I am confident that in the upcoming battles they will fully live up to their reputation."
He published a video, accompanied by stirring music, showing soldiers in combat training, including some wearing Wagner insignia on their uniforms and masks over their faces. Kadyrov said the drills included shooting, field medicine and training for snipers, machine gunners, sappers and artillerymen.
Reuters7 November 2023 03:44
1699324800
Zelensky says Ukraine has 'eliminated' another Russian warship
Ukraine's president Volodymyr Zelensky says his troops have "eliminated" a Russian warship housed in a shipyard at the Crimean city of Kerch.
"I thank everyone who ensured the successful targeting of the Russian warship at the Kerch shipyard. This is significant – another source of Russian terror against Ukraine has been eliminated," the Ukrainian president said in his nightly address.
It follows an admission by Russia's defence ministry that Ukraine had targeted the shipyard with 15 cruise missiles on Saturday, 13 of which were shot down in an attack which damaged a ship.
Andy Gregory7 November 2023 02:40
1699320780
Western officials 'quietly talking to Kyiv about outline of peace negotiations'
US and European officials have been quietly talking to Kyiv about what possible peace negotiations to end the war with Russia might look like, NBC reports, citing one current and one former US official familiar with the discussions.
Some of the talks, which the officials described as delicate, took place last month during a meeting of the the Ukraine Defence Contact Group in Brussels, which brought together representatives from more than 50 nations, NBC reported.
Andy Gregory7 November 2023 01:33
1699317000
Satellite image 'shows strike on Russian warship'
Satellite imagery shared by an analsyst at the American Enterprise Institute think-tank appears to show the damage from a Ukrainian strike on a Russian warship in the Crimean port city of Kerch.
Andy Gregory7 November 2023 00:30
1699313603
Ukraine expected to 'take major step towards EU membership talks'
The European Union executive is expected to recommend on Wednesday that the bloc opens membership negotiations with Kyiv once it meets outstanding conditions, two EU officials have told Reuters.
The Commission will assess Ukraine across seven reform areas in a report that will inform a key decision in December at a summit of the EU's national leaders on whether to start formal membership negotiations with Kyiv.
Both EU officials said the recommendations meant formal negotiations with Kyiv – and fellow EU candidate Moldova – could start next year.
The Commission's report, which will also cover progress towards membership by other EU hopefuls, was still to be finalised before official publication, the sources added.
In Kyiv, a senior government official also said Ukraine expected the European Commission to deliver a "positive" appraisal of its membership bid.
Andy Gregory6 November 2023 23:33
1699310363
Footage shows Bucha 18 months on from Russian occupation
A Ukrainian journalist has shared footage showing a view of the streets of Bucha some 18 months on from Russia's withdrawal from the town of Bucha, in the Kyiv region.
The first clip shows houses destroyed, and debris and wreckage littering the streets.
The more recent clip shows a car driving through unmarked roads and passing by perfectly intact buildings:
Andy Gregory6 November 2023 22:39