Posted on October 27, 2023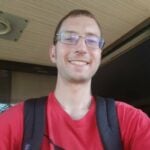 By Nick Bartlett, SuperWest Sports
Wise is the bettor who consults Nick's No-Nonsense Betting Tips before logging on to his sportsbook.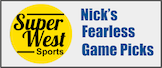 Last week was not great for me—and for you, unfortunately, if you followed my advice.
I went 5-5, missing on the New Mexico-Hawai'i, BYU-Texas Tech, San Jose State-Utah State, Utah-USC, and Nevada-San Diego State games.
So where did I go wrong?
New Mexico has lost 14 straight conference games and didn't figure to beat the 'Bows. I definitely underestimated BYU, which remains undefeated against Big 12 foes at home.
San Jose State had struggled but finally broke through. And USC not avenging last year's two losses to the Utes in the Coliseum? I would never have guessed it.
Finally, Nevada had lost 16 straight games and hadn't shut out a team since 2011.
Even with those misses, I'm still a respectable 67-25 on the season.
But enough hindsight. It's time to look ahead to this week's games.
As always, my selections come with incredibly accurate game scores and just enough commentary to keep me from eating too much candy corn.
My bowl is already half-empty, so let's get on with the picks!
BYU at No. 7 Texas
Saturday, Oct 28
12:30 pm PT, ABC
Starting off this week, we got an Orange Blood versus a wanna-be Blue Blood. BYU enters this matchup after an impressive win against Texas Tech.
The Cougars have performed well in their first year in the Big 12, but they're gonna learn today. Texas is legit and BYU has caught them at an unfortunate time.
The Longhorns escaped Houston last week and lost to rival Oklahoma the week prior. But UT's hungry and they got food in Texas.
The Cougs better enjoy Terry Black's because the Longhorns are going to run them off Campbell-Williams Field.
UT in a blowout.
Texas 41, BYU 20
No. 8 Oregon at No. 13 Utah
Saturday, Oct 28
12:30 pm PT, FOX
Utah's story this year has proven heartwarming. Most people wrote them off without Cam Rising and Brant Kuithe—me too.
Nevertheless, the Utes have continued to win and are somehow amongst the favorites to win the conference.
Utah's scoring defense is ranked 11th in the nation and will need to pace themselves if they'd like to hold up against Oregon.
Utah is much better than people think, even without their two best players, and the Ducks will have their hands full in Salt Lake City.
Bo Nix has improved in big games, but against the Huskies, he fell short. Not this time.
Ducks by 11.
Oregon 41, Utah 30
No. 24 USC at California
Saturday, Oct 28
1:00 pm PT, Pac-12
The kick-the-USC-while-they're-down party is over. Psyche one more.
The Trojans enter this matchup in a weird place. If they lose, their season is pretty much over.
And really, Caleb Williams has nothing left to play for: He already has an estimated net worth of no less than $3 million. Huh?
For California, just why? Why do the Golden Bears do enough to never do enough? A win against USC would be just about everything for this program.
And they may have a chance, considering they have the 53rd-ranked scoring offense in the nation.
But a chance isn't a win. This feels like an odd victory for SC.
Trojans by eighteen.
USC 42, Cal 24
Wyoming at Boise State
Saturday, Oct 28
2:30 pm PT, FS2
I don't know how Mountain West purists feel about this contest. Wyoming enters this matchup with a 5-2 record, but both their losses have come against reputable programs.
The Cowboys are a legit team, but a third loss would hurt, particularly on the national landscape.
For Boise State, what the flavor? This is the Broncos' first game since the disaster against Colorado State, and they need to defend the blue.
BSU could potentially end up with a losing record for the first time since 1997—when the Broncos played in the Big West Conference.
This is a statement game out west, and I think the Wiley vet has a few bank shots left.
Broncos by one.
Boise State 28, Wyoming 27
No. 19 Air Force at Colorado State
Saturday, Oct 28
4:00 pm PT, CBS Sports
There are nine undefeated teams left in the country and Air Force is 7-0. The Falcons should still be one of them by the end of Saturday.
Colorado State has been playing great football since Brayden Fowler-Nicolosi took over, and they almost beat UNLV last week.
If Air Force wants win number eight, they gotta finish in the red zone. The Falcons will likely be able to control the tempo of the game but Fowler-Nicolosi should put up points.
Air Force is likely favored by a little bit, but this is a viable upset option. It all depends on the Falcon defense. Could, would, should win.
Air Force by ten.
Air Force 27, Colorado State 17
No. 5 Washington at Stanford
Saturday, Oct 28
4:00 pm PT, FS1
This is the Week Nine version of last week's Washington State-Oregon matchup.
If it wasn't for Mishael Powell saving Washington, they could've lost to Arizona State which puts Stanford in a bad place.
The Huskies enter this contest with a trap mindset, after a trap game, combined with the confidence from a win. It also feels unlikely Michael Penix Jr. will struggle twice.
Stanford got knocked out by UCLA. The Cardinal have improved since September but they still have the 129th scoring defense nationally.
Even if the smart guys score, the Dawgs will multiply it by three.
UW's chillin.
Washington 42, Stanford 14
Colorado at No. 23 UCLA
Saturday, Oct 28
4:30 pm PT, ABC
This is one of those intriguing games that could be lopsided and boring. Colorado's "stunna shades" were ripped off by Stanford and now we find out who they really are.
The Buffaloes have improved twentyfold since the arrival of Deion Sanders, but a loss here, and they're just decent. This matchup is particularly important for CU because they have a difficult schedule down the stretch.
For UCLA, this feels like a game that Chip Kelly might have lost in the past. The Bruins have been skating that "kinda good" line for a couple of years now, but kinda good doesn't cut it in the Big Ten.
It doesn't cut it in the Pac-12 either, but it should be good enough on Saturday.
Bruins by fourteen.
UCLA 38, Colorado 24
Washington State at Arizona State
Saturday, Oct 28
5:00 pm PT, Pac-12
S*hit, this might be the last two times these teams meet. This matchup will always be important to me because my cousin graduated from Arizona State, and I'm a Coug.
On the field, ASU's coming off their best performance of the year, playing Washington tough for four quarters. The Sun Devil defense has looked solid recently and will like to contain Cam Ward.
For Washington State, this is a culture game. The Cougars aren't going to win the National Championship, nor the Pac-12, but they could have a winning season.
But they gotta beat ASU first.
Sorry Cuz, Cougs by three.
WSU 31, ASU 28
No. 11 Oregon State at Arizona
Saturday, Oct 28
7:30 pm PT, ESPN
One of the more debatable games among my SuperWest compadres. Some of us think that Arizona looks like the better team and with solid reason.
The Wildcats dominated WSU two weeks ago, and things feel like they're coming together under Noah Fifita. AZ's defense would likely benefit by making Oregon State one-dimensional.
For OSU, this is all about their offensive line. The Wildcat defensive line is tough but the Beavers should hold a slight advantage up front.
Arizona's gotten a lot better, but some of us think the Beavs are legit.
OSU in a fun one.
Oregon State 38, Arizona 35
UNLV at Fresno State
Saturday, Oct 28
7:30 pm PT, FS1
Fresno State enters this matchup with an opportunity to put themselves in a good position. A win here, followed by Boise next week, and the rest of the schedule sets up nicely for the Bulldogs.
FSU fares pretty well on both sides of the ball, but their leader is quarterback Mikey Keene, who is questionable for this game.
UNLV has to do more than just kick field goals. The Rebels escaped last week behind a 6-6 performance from kicker Jose Pizano.
The Rebels' scoring offense is Top 20 in the nation, but they gotta score touchdowns against a Jeff Tedford squad. Stops are fun if you can get them.
Fresno by seven.
Fresno State 30, UNLV 23
New Mexico at Nevada
Saturday, Oct 28
7:30 pm PT, CBS Sports
Shoot, Nevada won last week and they have an opportunity to win again. The Wolf Pack enter this matchup hoping to carry the momentum from their victory in San Diego.
If Nevada's gonna get number two, they gotta score some points. New Mexico's scoring offense is ranked 55th in the nation which is a far howl from Nevada's 130th.
The Lobos are led by quarterback Dylan Hopkins, and sidekicked by halfback Jacory Croskey-Merritt.
Nevada's still looking to find an identity, but their defense did post a shutout in Snapdragon.
New Mexico doesn't believe in dragons, Lobos win tight.
New Mexico 23, Nevada 20
San Jose State at Hawai'i
Saturday, Oct 28
9:00 pm PT, Spectrum Sports
Ive been up since 3 a.m., and I'm not sure what time it is anymore. But I'm sure that this is the Chevan Cordeiro Bowl.
For Cordeiro, this should be a nice homecoming of sorts, a feel-good story in a Hawaii football-type of way.
On the field, it's been tough for Hawai'i this year. The one positive the Rainbows have is in their quarterback Brayden Schager, who has thrown for 2,433 yards and 20 touchdowns in 2023.
I can sit here and do all this and do all that, but something tells me Cordeiro isn't losing in Honolulu.
Welcome home, sir. Spartans vibe.
San Jose State 31, Hawai'i 17
---
—More from Nick Bartlett—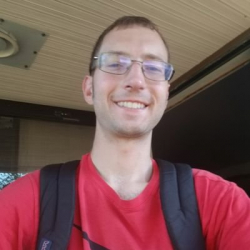 Latest posts by Nick Bartlett
(see all)