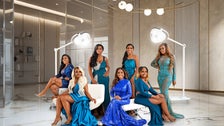 "Married to Medicine" may not get the same level of promotion and recognition as other Bravo shows, but those who have paid attention to the series — including Bravo's Andy Cohen — have rightly celebrated it for being one of the best shows on the network.
I have often referred to it as the Beyoncé of Bravo shows because it is consistently funny, and the cast — which has maintained its original lineup — is also authentic in a way not often found on other reality shows.
Yes, there is mess and hijinks, but these are medical professionals and spouses who have genuine friendships. They act like real people, as opposed to reality stars willing to do anything to get their TV check.
Those qualities have made "Married to Medicine" ultimately more consistent than "Real Housewives of Atlanta," which has been widely panned in recent years for not delivering at the level it did at its peak.
That's partly why I was nervous about the 10th season of the show, which begins Sunday night on Bravo. Earlier this year, Page Six reported that the "Married to Medicine" cast was "begging" former RHOA star Phaedra Parks to join the cast and that she was "definitely considering it."
Parks, a former lawyer for Bobby Brown who has since extended her job titles to mortician and entrepreneur, departed RHOA in 2017 after seven consecutive seasons. She did not exactly leave quietly.
At the end of Season 9, Parks' close friendship with Kandi Burruss ended after it was alleged that she accused Burruss and her husband, Todd Tucker, of attempting to drug fellow cast member Porsha Williams. Parks apologized for spreading the rumor on the Season 9 reunion special.
In spite of the controversial way she left that show, Parks remained a fan favorite for many Bravo viewers. She joined the cast of Peacock's "The Real Housewives Ultimate Girls Trip: Ex-Wives Club" set at Dorinda Medley's Berkshires estate. That appearance was followed by a surprise cameo on "The Real Housewives of Dubai." Both appearances were generally well-received — sparking talk that perhaps Parks might be willing to go back and pick up her peach where she left it in Atlanta.
She shut that prospect down swiftly during a promotional interview for "Ultimate Girls Trip" on "The Wendy Williams Show."
"I'm yachting in Dubai," she said. "I'll leave the girls of Atlanta on the Titanic."
Burruss emphatically rejected the idea when asked about sharing screen time with her ex-friend again around that same time. With both of them equally uninterested in dealing with each other, it meant if Parks were to return to Bravo, it would have to be on some other show.
Enter "Married to Medicine."
I wondered how exactly Parks would fit in with the cast of "Married to Medicine" once it was confirmed that she would join the franchise. I still find the claim that M2M cast members "begged" her to join their show a bit dubious, or at the very least, unnecessary pleading. As much as I have enjoyed Parks on my TV over the years, her presence isn't necessarily required to make the show any better than it already is.
Though she knows the rest of the cast socially, she is not a doctor, nor is she married to one. However, in the premiere episode, audiences learn that Parks is dating a doctor while apparently dabbling in holistic medicine herself.
When she makes her entrance, in one of those Mugler outfits that scream platinum-selling female rapper or IG baddie, it is even more clear that the once-conservative Parks we knew is long gone (social media already made that clear, to be fair).
But as Dr. Heavenly Kimes and Dr. Jackie Walters visited her high-end boutique that sells fur coats, I worried a bit for a moment.
The scene felt more "Real Housewives" than "Married to Medicine." It's not that I don't want to see Parks back on TV, but what I don't want is for one of my favorite shows that is beloved for its authenticity to turn into something that reads disingenuous.
But as the episode continued, I was reminded that no matter who joins this show, their star power cannot shake the rest of the cast and what they built.
Parks fit in just fine, and as we've already seen on RHUGT, she's fairly good at blending in to any crowd. Thankfully, she does at least know these women, so it doesn't feel as forced as some may fear.
For what it's worth, as much new attention as Parks may be bringing to M2M, she's actually the less controversial new cast member of the show.
That bragging right goes to Lateasha Lunceford, who is mostly referred to as "Sweet Tea." She recently married Dr. Gregory Lunceford, the ex-husband of "Married to Medicine" cast member Quad Webb.
Their marriage ended in 2019, but given the apparent volatility of their relationship, it is, uh, surprising to see him back on the show with his new bride working alongside his ex-wife.
While the beginning of the M2M premiere introduces Parks, the rest of the episode focuses heavily on Sweet Tea and Dr. G as they host a party in the same house he once shared with Webb.
Webb is not present, but the trailer has made certain that her presence will be felt the rest of the season.
When Kimes asked Webb on her YouTube channel how she felt about the decision, she responded by saying she felt "disrespected" by producers.
I can't wait to watch how that sentiment is conveyed this season.
As for Parks, Kimes has expressed in interviews that while the two of them are fine, fans will be "shocked" by what we see in Season 10.
I look forward to finding out how this drama unfolds. In the meantime, I feel relieved that Parks' role seems to be less about shifting the tone of an already beloved show but rather ideally bringing new eyes to it.