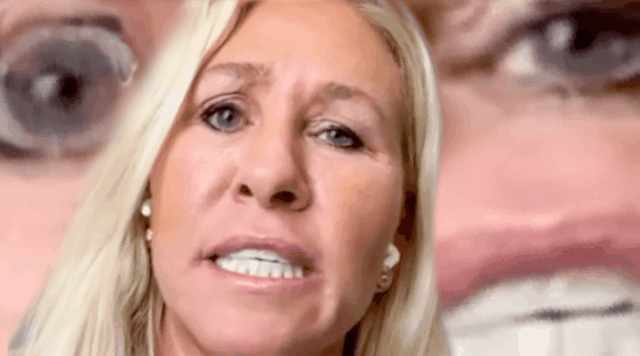 Thank goodness the MAGA party brought class and decorum back into politics after the shamefully wanton Obama era. Even before he took office, Trump set a new standard by demonstrating to his far-right Christian cult members that it was simply good manners to grab women by the pussy, to mock disabled people, and insult parents of killed and wounded veterans. The example he set was heeded well by Georgia Rep. Marjorie Taylor Greene, who took to stalking and harassing school shooting survivors, and trafficking in QAnon and antisemitic conspiracies theories.
Now, Marjorie is trying out her MAGA etiquette on members of her own party, particularly her arch-nemesis, Lauren Boebert. According to a report in The Daily Beast, Greene is going around telling her fellow Congress members that Boebert is a "whore."
One Republican lawmaker, who has heard Greene use that word multiple times to describe Boebert, told The Daily Beast that Greene has been at this campaign for some time.

"Calling her a whore, that's not new," this GOP lawmaker said. "She's been doing that for a while."

Another GOP lawmaker also witnessed Greene refer to Boebert as a "whore."

This second lawmaker additionally claimed Greene had trashed Boebert in a conversation with Donald Trump, though this member had no knowledge of the specific language Greene used in that conversation—just that the two had discussed Boebert. Yet another GOP member who speaks to Trump told The Daily Beast that Greene had, in fact, made "disparaging" remarks about Boebert to the former president, though again, this person didn't have specifics about what Greene had said to Trump.
It's sad to see these two representatives, who share many things in common — recent divorces, love of fascism, addiction to NRA support, hatred of LGBTQ, desperate need of attention — fight like this.