Two electric air taxi makers have demoed their craft in New York City as part of Mayor Eric Adams' plans to create the world's first heliport with infrastructure necessary to support the vehicles – eventually.
Joby Aviation and Volocopter both flew short test flights at NYC's Downtown Manhattan Heliport (DMH) at the weekend, which Adams said is intended to be used as a base for electric vertical take-off and landing (eVTOL) aircraft. 
Youtube Video
"Our vision for the Downtown Manhattan Heliport will create the world's first heliport with infrastructure for electric-powered aircraft and put this public asset to work for New Yorkers as a hub for sustainable transportation and local deliveries," Adams said.
The majority of flights from the DMH have classically been helicopter tourist flights, which have become a noise nuisance for New York residents, which Adams said is one of the goals in electrifying DMH.
The electrified makeover at the heliport, which occupies a pier on NYC's East River, will also include new support for maritime freight distribution, as Adams also wants to "get trucks off the road and make our streets safer" by returning freight to the city's waterways. 
The New York City Economic Development Corporation (NYCEDC) released a request for proposals from vendors looking to lead the DMH electrification overhaul over the weekend as well. It's unclear how the modernization efforts will affect Saker Aviation Services, the DMH's current operator, which didn't respond to questions. 
Have port, need e-helo
With its plan to use facilities like the DMH to cut emissions in the Big Apple in half by 2030, the next thing Adams and the NYCEDC need are eVTOLs like those demonstrated on Sunday to do the flying.
Unfortunately, we're not quite there yet.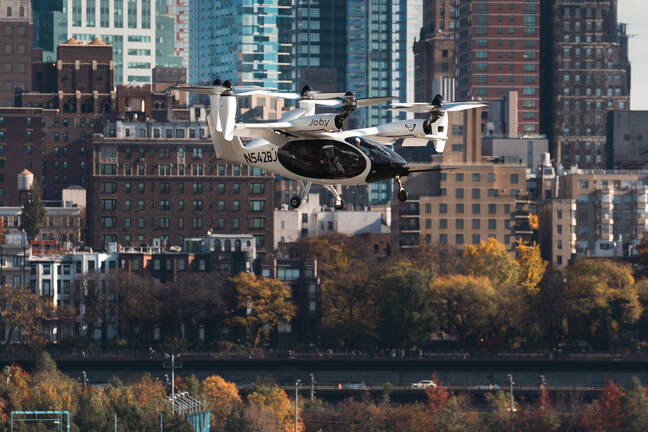 Joby's eVTOL air taxi being demonstrated in NYC – Click to enlarge
The demonstration flights over the weekend marked the first-ever air taxi flights in NYC, and the first time Joby Aviation had flown one of its aircraft in an urban setting. Joby, which received a cash infusion from a partnership with Delta Airlines last year, is targeting New York as one of its first major locations, but the company is still waiting on clearance from the Federal Aviation Administration to operate commercial flights. Joby doesn't expect that to happen until 2025.
Joby was able to demonstrate its full-sized aircraft after receiving a limited flight license from the FAA earlier this year, but Volocopter isn't quite at that stage yet. 
Instead of flying its passenger-shuttling VoloCity eVTOL, Volocopter's test flight was performed by a smaller two-seater version known as the 2X, as its full-sized aircraft has yet to receive FAA certification.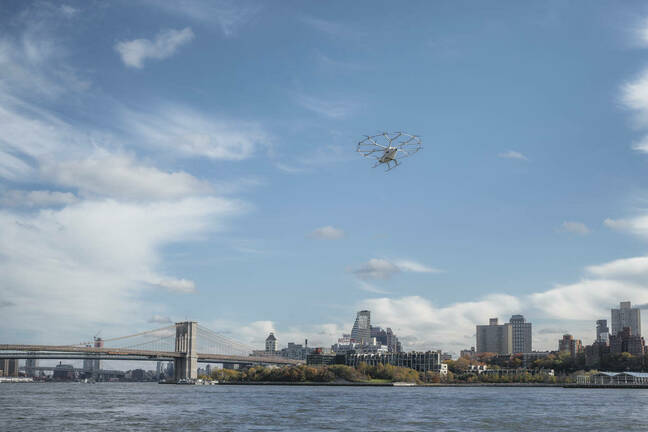 Volocopter's 2X being demonstrated in NYC – Click to enlarge
According to Volocopter head of global PR Helena Treeck, the German company is working on concurrent certification for the VoloCity with the FAA and European Aviation Safety Agency (EASA), the latter of which is expected to make a determination next year. 
"FAA certification will follow a few months later because concurrent certification means both agencies are working together," Treeck told The Register. She wouldn't speculate on when the FAA will certify the VoloCity for flight, however, because Volocopter isn't sure when in 2024 the EASA will give its nod. "If EASA says we can fly in October, it could be 2025 before the FAA gives us the OK," Treeck said. 
Neither Joby nor Volocopter have signed agreements to operate at the DMH, we're told, so the future of eVTOL flight in NYC is still pretty much up in the air. ®