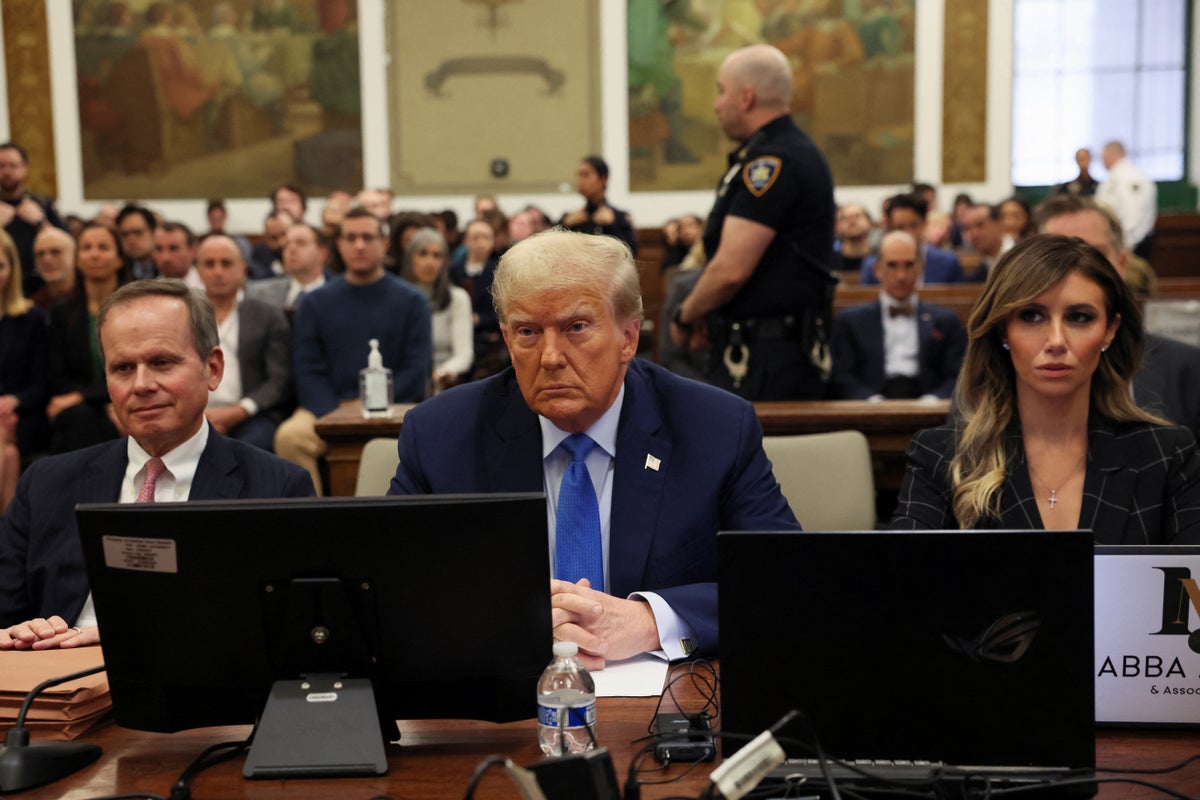 Jimmy Kimmel roasts Eric Trump for claiming he is 'a construction guy'
Donald Trump has begun to give his landmark testimony in the civil fraud trial that threatens to topple his business empire.
The former president took the stand days after his adult sons Eric Trump and Donald Trump Jr testified last week.
His daughter Ivanka Trump is slated to appear for testimony in court on Wednesday – hours before the third Republican primary debate.
Ahead of his appearance, Mr Trump reposted several of his past Truth Social posts where he attacked Judge Arthur Engoron and New York Attorney General Letitia James.
Last week, the judge expanded the gag order in the case to include Mr Trump's attorneys following repeated comments made about the court clerk.
In other Trumpworld news, the former president is requesting special counsel Jack Smith keep it brief when submitting filings to a federal judge in the government's 2020 election subversion and January 6 case.
In a filing to Judge Tanya Chutkan on Saturday, Mr Trump's defence team asked that the judge prohibit Mr Smith's prosecution team from exceeding the 45-page limit in an "oversized" filing that responds to Mr Trump's attempt to have the case thrown out.
Alex Woodward is reporting from inside the courtroom for The Independent.
1699284730
Trump is asked whether — in light of his expertise in real estate — he thought the values were off for any properties in those statements.
"Yeah. Both high and low."
He cites the low: Mar-a-Lago, 40 Wall Street and Doral, among them.
"The values are far bigger than what's on the financial statements," before going off on a rambling list of reasons why he thinks so.
"The question was what properties were undervalued or overvalued, not why you think so," the judge says.
He interrupts the NYAG's counsel to espouse about "brand value".
The Trump brand value would add "tens of millions of dollars" to his net worth, he said.
"It's an asset. Coca-Cola includes it. … I became president because of my brand value. I sell books at levels that are incredible," he continued.
Judge Engoron interrupts again, asking counsel: "Did you ask for an essay on brand value?"
The judge and the NYAG's office are really trying to get him to answer simple questions without speeches.
Oliver O'Connell6 November 2023 15:32
1699284278
Trump is asked about the 2014 statement of financial condition.
"First of all, that was so long ago, well beyond the statute of limitations," he said. "I'm sure the judge will rule against me, he always rules against me."
Judge Engoron, to Kise, referencing his earlier objection: "Is that comment a necessary part of the 'narrative'?"
Kise asked to give, "according to The New York Times this morning, the future president, a little latitude to explain himself."
"You can attack me, you can do whatever you want, just answer the question," the judge replied.
Oliver O'Connell6 November 2023 15:24
1699283759
Here, Judge Engoron interrupts.
"I would like to move things along a little faster. Please, answer the questions, no speeches," he said. "Some of your answers are not in response to a question."
Trump attorney Christopher Kise objects.
Judge Engoron says: "Please, let's just continue."
Oliver O'Connell6 November 2023 15:15
1699283664
Trump was asked about the statements of financial condition — the documents that are very much at the heart of the case which showed inflated valuations of assets and his own net worth: "They were just something you would have for yourself if you were borrowing money … They were not really documents that the banks paid much attention to … They looked at the deal. … They were not that important."
"They just weren't a very important element in the banks' decision-making process. And we'll explain that as the trial goes along. Crazy trial, as it goes along."
He said his defence will offer up bankers to "explain."
"These are very substantial bankers," he says.
Oliver O'Connell6 November 2023 15:14
1699283528
Asked why he appointed them to run the trust while he was in the White House, Trump criticised "Democratic district attorneys, AG and US attorneys were coming after me."
"All Democrats, all Trump haters … weaponisation, we call it," he said. "[Donald Jr] would be running the business with Eric and I had good confidence in them."
Asked to clarify if the trust was to avoid investigations, he said: "I think moreso the fact I was in politics."
Oliver O'Connell6 November 2023 15:12
1699283284
Questioning begins
Questioning of the former president begins with Wallace asking about the corporate structure and his ownership of the Trump Organization and when the Donald J. Trump Revocable Trust was formed in 2016.
"Pretty much when I won, I formed the trust."
"It was primarily when I thought about running," he said. "Pretty much about the time that I run … I felt there would be a conflict of interest … so I formed the trust … Even though I would be allowed to do that."
He appointed Weisselberg to run it with Donald Jr because "he was very good at what he did."
"We really liked him," he said.
As for Don Jr: "He's a hard-working boy."
Oliver O'Connell6 November 2023 15:08
1699283110
Trump takes the stand
Donald Trump arrived in court in a blue shirt and blue tie, walking slowly, face slightly toward the ground, before giving a wink and a hello to Secret Service and police waiting at the defence table. He walked in behind attorneys Christopher Kise and Alina Habba.
They are joined by Alan Garten, and others, including Trump defence lawyers Todd Blanche and Susan Necheles plus campaign spokesperson Steven Cheung and erstwhile strategist Jason Miller.
After a pool spray from a group of photojournalists, New York Attorney General's counsel Kevin Wallace says: "The People call Donald J Trump."
The former president rises and saunters across the room to the witness stand.
Oliver O'Connell6 November 2023 15:05
1699282706
Watch: Trump's remarks outside courtroom ahead of his testimony
Oliver O'Connell6 November 2023 14:58
1699282549
In pictures: Outside the courthouse
Oliver O'Connell6 November 2023 14:55
1699281981
NYAG says case is about numbers and 'numbers don't lie'
New York Attorney General Letitia James has entered the courtroom.
She stopped to make brief remarks to the assembled media outside the courthouse.
"It's going to be an interesting day but numbers and facts matter."
Oliver O'Connell6 November 2023 14:46