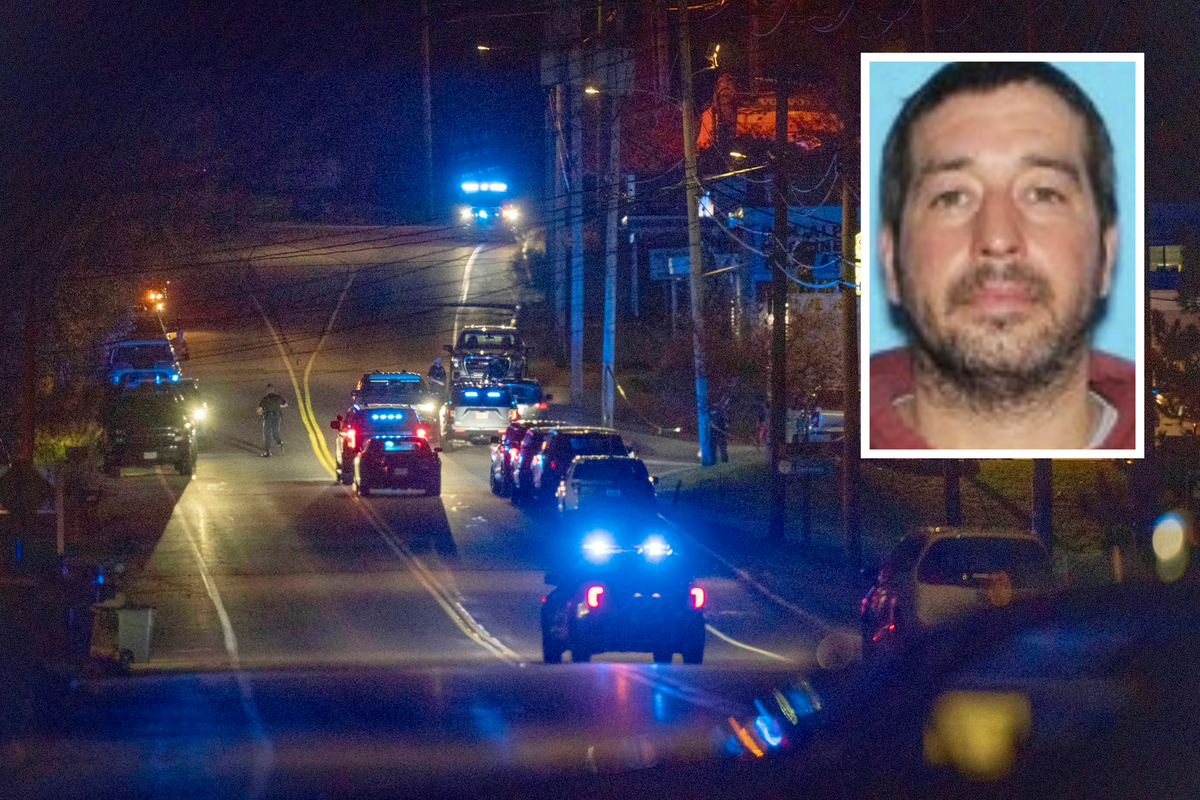 On Wednesday night the city of Lewiston, Maine, was shaken after a gunman opened fire in a bowling alley and a bar. Police scrambled to find the shooter, urging residents and local businesses to lock down immediately.
Maine law enforcement officials later announced that Robert Card, a 40-year-old Sgt 1st class in the Army Reserve, was wanted as a suspect in the shootings that left 18 dead and 13 others injured.
On Friday evening it was revealed that his body had been found in woodlands close to a recycling centre where he used to work in the town of Lisbon.
Here's what we know so far about the shooter:
Who was the gunman?
Police identified 40-year-old Robert Card as the "person of interest" and later suspect in a deadly shooting.
Photos of the gunman, made public for identification, showed him wearing brown clothes and brandishing a high-powered assault-style rifle – law enforcement described the weapon as an AR-15-style rifle with a possible telescopic sight.
Officials at Saturday morning's press conference said the first three calls that "positively identified" the gunman were from his relatives; they also said "strong mental health cloud over what happened," and clarified that police have not found records indicating that he was "forcibly committed for treatment."
Card served as a firearms instructor in the US Army Reserve.
He joined the US Army in 2022 and became a Sgt 1st class and Petroleum Supply Specialist. He had no combat deployments during his enlistment.
But recently, the gunman had disclosed mental health issues, citing experiences of auditory hallucinations and threats to attack the National Guard Base in Saco, according to a Maine law enforcement bulletin seen by the Associated Press.
Over the summer, he was admitted to a mental health facility for two weeks.
"I have known Rob my whole life," Katie Card told The Daily Beast. "He is quiet but the most loving, hardworking, and kind person that I know. But in the past year, he had an acute episode of mental health, and it's been a struggle."
She explained that her brother-in-law had begun wearing hearing aids and was convinced he could hear people talking about him at the two locations of the shooting.
"He truly believed he was hearing people say things," she said. "This all just happened within the last few months."
The suspect showed an interest in right-wing pundits and politics on X, formerly Twitter, before his account was deleted by the company.
He liked posts from Elon Musk, Donald Trump Jr, Tucker Carlson and Jordan Peterson. He appeared to focus on content that expressed anti-trans views, as well as on gun rights, the coronavirus and the economy.
Liking a post does not necessarily signify that he agreed with the content, and there is no indication that it was a political attack.
The suspect's account on X was captured by Heavy.com before it was deleted by the platform, as per its policy. The profile picture on that account appears to match photographs released by law enforcement.
In March, he liked a tweet from Trump Jnr that said:
"Given the incredible rise of trans/non-binary mass shooters in the last few years… by far the largest group committing as a percentage of population… maybe, rather than talking about guns we should be talking about lunatics pushing their gender-affirming bulls*** on our kids?"
He also liked a video post in March from by Carlson, the former Fox News commentator, which was accompanied by the text: "The trans movement, it turns out, is the mirror image of Christianity, and therefore its natural enemy. People who believe they're God can't stand to be reminded that they're not."
Another theme that drew the suspect's attention was the coronavirus. He liked several posts that expressed scepticism over vaccines and public health lockdowns.
The suspect followed only a few accounts on the platform, among them a pro-Donald Trump 'MAGA' page called Proud Patriots, X owner Musk, Mark Cuban, the business network CNBC and Joe Rogan, according to Heavy.com. He also interacted with a number of accounts of Republican politicians, such as former House speaker Kevin McCarthy and Jim Jordan.
The suspect liked at least two posts from President Joe Biden's account, relating to his administration's efforts to tackle inflation and taxes. He also liked several by Jim Cramer, the CNBC host.
What happened in the Lewiston shooting?
Around 7pm ET on Wednesday, police, fire and rescue personnel first descended on Just In Time Recreation on Mollison Way, in Lewiston following a report of an active shooter.
Minutes later, more 911 calls came in for shootings at a local bar and restaurant, Schemengees Bar & Grille, on nearby Lincoln Street.
Video shared online showed multiple police vehicles in the local area. A message put out online by Maine State Police advised members of the public to "shelter in place".
"There is an active shooter in Lewiston. We ask people to shelter in place. Please stay inside your home with the doors locked. Law enforcement is currently investigating at multiple locations," the force said.
In total, 18 people were killed, while another 13 were injured in the attacks.
Among the victims, seven people including one female and six males were found dead from gunshot wounds at the bowling alley.
Seven males were killed inside the Schemengees Bar & Grille Restaurant and one male was killed outside.
Maine shooting: Police urge public to shelter as 'armed and dangerous' suspect on loose
Searches for the gunman continued throughout Thursday, with Maine police holding a press conference in the evening – though little new information was provided about the gunman's whereabouts.
On Friday, police said that searches were still being expanded as the shooter remained at large, with diving teams being deployed in the Androscoggin River.
Maine's public safety commissioner, Michael Sauschuck, asked the public for respect and patience as police work to finish processing the scenes, identifying victims and contacting families. He said they planned to hold press conferences every morning until the suspect was found – just hours before Card's body was located.
What do we know about the gunman's death?
On Friday evening, Maine State Police said they found the gunman's body in a box trailer in the overflow lot of Maine Recycling Corporation after a 48-hour-long manhunt.
The discovery came after the owner of the recycling plant reportedly called in, urging police to look at the 55 to 60 trailers in the lot. Police said they had "cleared" the area twice before getting the call from the owner, who was reportedly the shooter's ex-boss.
The gunman is believed to have died by suicide.
"He is dead," Maine Governor Janet Mills said at a news conference, as she thanked the officers involved in the manhunt.
Ms Mills added: "Like many people, I am breathing a sigh of relief tonight, knowing that Robert Card is no longer a threat to anyone… Now is the time to heal."
How is Lewiston dealing with the tragedy?
In the hours after the shooting, schools and businesses in Lewistown as well as surrounding areas remained on lockdown as police searched for the gunman.
The county of Androscoggin as well as the northern portion of Sagadahoc County were under shelter-in-place orders until Friday afternoon – hours before the gunman's body was found.
With a population of only 1.3 million people, Maine has one of the country's lowest murder rates with just 29 killings in all of 2022.
Following the announcement of the shooter's death, the community is beginning to heal.
On Saturday, a few events were resuming, and there was a steady stream of traffic at a River Road solid waste facility; with city services suspended under the shelter-in-place, rubbish has been piling up throughout Lewiston. Vigils will be held for victims over the weekend including a large one on Sunday.
What has been the wider reaction?
The attacks have been roundly condemned by politicians and gun safety advocacy groups, as well as Maine native and author Stephen King.
President Joe Biden ordered all US flags to be flown at half-mast, writing online: "Once again, our nation mourns after another senseless and tragic mass shooting. Today, Jill and I pray for the Americans in Maine who've lost their lives, those in critical care, and the families, survivors, and community members enduring shock and grief."
In her own statement, Vice President Kamala Harris called for tighter gun safety laws, telling reporters: "President Biden and I are not waiting around. Through the White House Office of Gun Violence Prevention, we will continue to work to save lives.
"We do not have a moment to spare, nor a life to spare."
The White House also asked newly-elected House speaker Mike Johnson to "work together" on gun legislation in the wake of the incident. "The House has a new speaker, who has said he is ready to get to work and find common ground," White House press secretary Karine Jean-Pierre said in her afternoon briefing.
Earlier, Mr Johnson – who was elected on Wednesday – faced criticism after simply offering "prayers" following the mass shooting, which he described as a "horrific tragedy".
"This is a dark time in America, we have a lot of problems and we're really, really hopeful and prayerful. Prayer is appropriate in a time like this, that the evil can end and this senseless violence can stop," he said.
"And so that's that's the statement this morning on behalf of the entire House of Representatives. Everyone wants this to end and I'll leave it there."
Meanwhile, Republican frontrunner and former president Donald Trump made a short statement on Truth Social saying, "A terrible situation going on in Maine. At least 22 dead. It just seems to never end for the USA!"
"This heinous attack, which has robbed the lives of at least 18 Mainers and injured so many more, the worst mass shooting that the state of Maine has ever experienced — and could ever imagine," Senator Susan Collins said at a news conference on Thursday evening.
Who are the victims?
All 18 of the victims killed in the shootings have been identified – including a 14-year-old boy who had gone to the bowling alley with his father that tragic night.
Aaron Young, 14, was with his father Bill Young at the Just In Time Recreation bowling alley for an evening with their bowling league when the shooting unfolded.
Bob Violette, who was a native of Lewiston and ran a youth bowling league, was reportedly killed trying to protect the kids he was responsible for on Wednesday night.
Both he and his wife Lucy were avid bowlers, with Mr Violette starting the youth bowling league at Sparetime Recreation, for which he was recently inducted into the Maine Bowling Hall of Fame.
Tommy Conrad, 34, worked as a manager at the bowling alley. He now leaves behind a nine-year-old daughter after he too was killed in the attack.
Two friends Michael Deslauriers and Jason Walker died saving their family members from the gunfire at the bowling alley and then charging at the shooter, it has been revealed.
Tricia Asselin worked part-time at Just-In-Time Recreation and was there bowling on a night off when the gunman came in and opened fire.
At the second location, Schemengees Bar & Grille, one of the victims was identified as the bar manager Joseph Walker.
Several other victims at the bar were attending a deaf cornhole tournament there at the time including Joshua Seal, Stephen Vozzella and Billy Brackett and Bryan MacFarlane.
Meanwhile, Arthur Strout, a 42-year-old father-of-five, had just told his father he was going to stay for a couple more games when the shooting took place.
The Maine AFL-CIO – a state federation of over 160 local labor unions – announced that one of its members, Peyton Brewer Ross was among those killed.
Ron Morin's family confirmed he was also among the victims, paying tribute to him in a Facebook post, writing: "Rest in Paradise, Ronnie. "This smile and your energy will forever be loved and missed."
Rachel Sharp, Kelly Rissman and Ariana Baio contributed to this report.