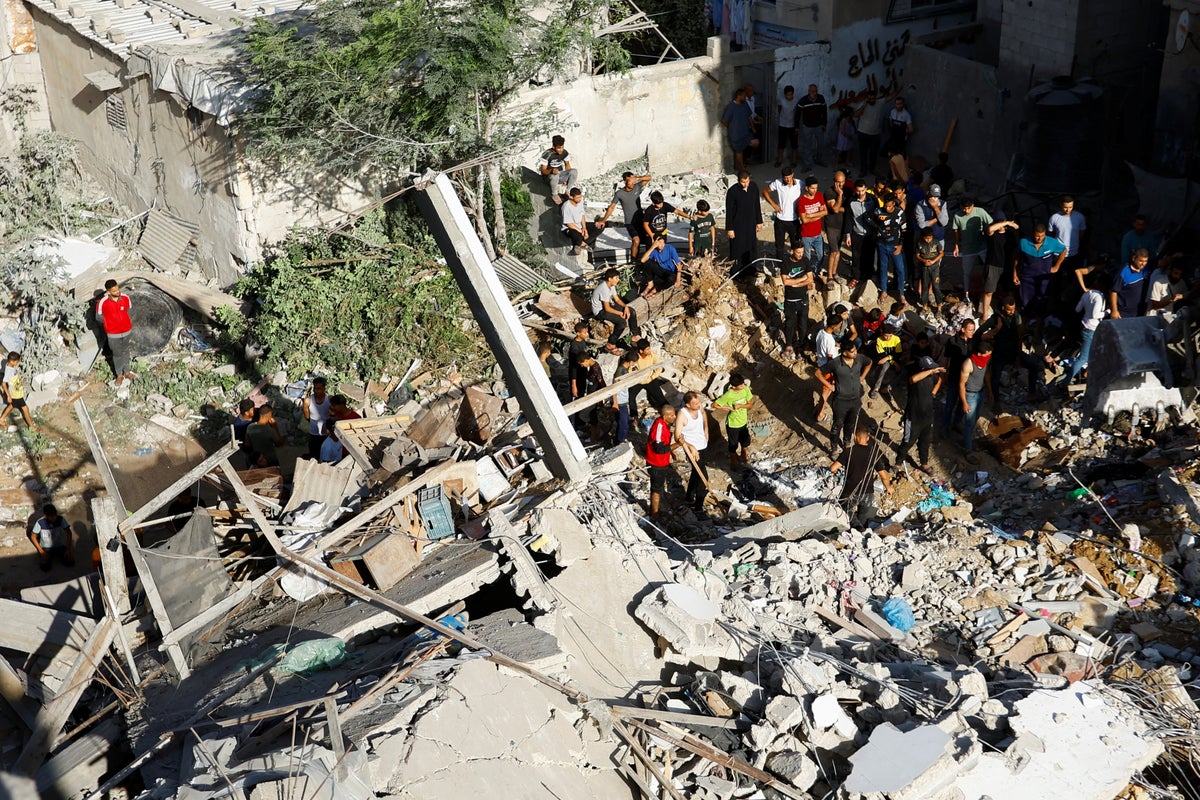 Brit in Gaza describes desperate scene at Rafah crossing
An Israeli attack on an ambulance outside al-Shifa hospital in Gaza has killed 15 people, the Hamas-run health ministry has said as Benjamin Netanyahu rejected calls for a temporary halt to his country's attacks on the enclave unless hostages held by Hamas militants are freed.
"Upon their arrival to al-Shifa, (Israel) directly targeted the convoy's second vehicle, committing a terrible massacre that claimed the lives of 15 (people) and wounded more than 60," health ministry spokesperson Ashraf al-Qidra said.
While Israel claims it was targeting Hamas in the attack on hospital vicinity, the dead and wounded include dozens of children who were left in a pool of blood.
The Israeli PM snubbed calls for a temporary ceasefire despite pleas by US Secretary of State Antony Blinken to do so to allow aid to enter the Palestinian enclave.
He told Mr Blinken: "We are going full steam ahead."
This comes as the leader of Lebanon's Hezbollah warned the US that preventing a regional conflict depended on stopping the Israeli bombardments of Gaza, and raised the spectre of fighting on the Lebanese front turning into a full-fledged war.
1699088663
UK's Chief Rabbi backs Sunak's call for crackdown on Armistice Day marches
Britain's Chief Rabbi has criticised pro-Palestinian marchers who standing "alongside" extremists after Rishi Sunak backed a crackdown on said marches planned for Armistice Day, Kate Devlin reports.
In an article for The Times, Sir Ephraim Mirvis said it was "a stain on our common humanity that so many seem to have lost sight of the moral distance between Hamas and Israel".
A fourth weekend of protests are due in London, with extra police officers on duty.
In his article, the Chief Rabbi said Hamas killings on October 7 mean many of the chants heard during pro-Palestine protests, including calls for "jihad" and an "intifada" against Israel, should be interpreted as supporting Hamas.
He added that protesters had to recognise the "moral chasm" between Hamas and Israel as he warns that the line between expressing support for Palestinians and backing "brutal terrorists" has become "badly blurred".
Matt Mathers4 November 2023 09:04
1699088066
Palestinian Red Crescent Society accuses Israel of 'war crime' over ambulance attack
The Palestinian Red Crescent Society (PRCS) has accused Israel of a war crime over a strike on an ambulance outside the al-Shifa Hospital in Gaza City that killed 15 people.
Israel has admitted responsibility for the strike, saying it targeted the ambulance because it was being used by Hamas.
PRCS said the target was among a convoy of five ambulances, four of which it owned, with the other belonging to the Gaza health ministry.
"PRCS emphasises that the deliberate targeting of medical teams constitutes a grave violation of the Geneva Conventions, a war crime, and that the parties to the four Geneva conventions are legally bound to ensure the protection of medical teams and civilians under all circumstances," it said in a statement.
Matt Mathers4 November 2023 08:54
1699087543
Blinken arrives in Jordan
US secretary of state Antony Blinken has arrived in Jordan ahead of talks with Arab leaders of the Hamas-Israel war.
He is scheduled to hold talks with Jordanian King Abdullah II and the prime minister of Qatar.
As we've been reporting, he has already met with Lebanese caretaker prime minister Najib Mikati.
Later today, Blinken will also have meetings with UN Relief and Works Agency for Palestine Refugees in the Near East (UNRWA) commissioner general Phillipe Lazzarini and a video call with his Gaza-based staff.
Matt Mathers4 November 2023 08:45
1699085821
Lebanon's prime minister emphasizes urgency of ceasefire in Gaza in meeting with Blinken
Lebanon's caretaker prime minister Najib Mikati met with US secretary of state Antony Blinken in Amman on Saturday and emphasized the importance of working towards a ceasefire in Gaza and stopping Israeli aggression in southern Lebanon, Lebanon state news agency said.
Mikati also stressed Lebanon's commitment to international legitimacy and the implementation of UN Resolution 1701, calling on the international community to pressure Israel to cease its violations.
Blinken, in turn, emphasized his efforts to halt military operations for humanitarian reasons and to address the issue of prisoners.
Matt Mathers4 November 2023 08:17
1699079432
Pentagon says it is flying unarmed drones over Gaza
The US has been flying unarmed surveillance drones over Gaza, it confirmed in a first statement after drones were spotted hovering over the war-torn region.
These drones were operating in "support of hostage recovery efforts", Pentagon spokesman Brig Gen Pat Ryder said, adding that these UAV flights began after the 7 October attack by Hamas on Israel".
"The US is conducting unarmed UAV flights over Gaza, as well as providing advice and assistance to support our Israeli partner as they work on their hostage recovery efforts," the Pentagon's statement said.
The US's rare acknowledgment comes after reporters spotted unmanned aerial vehicles (UAV) MQ-9 Reapers, usually operated by American special forces, over Gaza's airspace on Flightradar24, a publicly available flight-tracking website.
Arpan Rai4 November 2023 06:30
1699076428
Israel's fortified underground blood bank processes unprecedented amounts
Hours after Hamas militants attacked southern Israel on 7 October, the country's new fortified, subterranean blood bank kicked into action. Staffers moved equipment into the underground bunker and started saving lives.
The Marcus National Blood Services Centre in Ramla, near Tel Aviv, had been scheduled to open within days, but with more than 1,400 people in Israel killed since the Hamas raids — most killed during the initial attack — the timeline changed.
"It became very clear we needed to move with the war plans because this was exactly the moment, the event it was built for," said Dr. Eilat Shinar, director of the national blood services division of Magen David Adom — Israel's medical emergency, disaster, ambulance and blood service.
Nestled some 15 meters (50 feet) underground at its lowest level, the $135m, 6-story, state-of-the-art facility is protected from rockets, missiles, chemical attacks and earthquakes, ensuring blood processing can continue when it's needed most.
Shiner said the centre provided tens of thousands of units of blood in the days that followed the Hamas attacks.
"We worked very hard to supply everything they needed," she said. "We had many injured and we had to treat them."
The former blood bank, which was built in the 1980s, was not able to handle the country's needs in times of war, and had been exposed — but not damaged — during earlier conflicts, the centre said. After Israel's third war against Hamas in 2014, when rockets reached Tel Aviv and other major cities, discussions began about the need to create a more protected facility.
The new centre has the capacity to store almost twice the amount of blood of its predecessor — half a million units a year compared with 270,000 — and has processed more blood than has ever been held in Israel's reserves."There was a clear understanding that because rockets were flying close to the centre — any other place in the centre can be targeted," said Moshe Noyovich, the project engineer and representative in Israel for the American Friends of Magen David Adom, which primarily funded the new centre.
In the past, each time rockets were fired into Israel, the team had to move the equipment into a bunker to continue working. Now they can operate uninterrupted, he said.
Arpan Rai4 November 2023 05:40
1699075927
Netanyahu says no Gaza ceasefire until hostages released – as he rejects US calls for humanitarian pause
Benjamin Netanyahu has pushed back against growing pressure from the US for a humanitarian pause in its war on Hamas to protect civilians and get more aid into Gaza, saying there will be no temporary ceasefire until all hostages are released.
Flying into Tel Aviv on Friday, Antony Blinken, the US secretary of state, sought to urge the Israeli prime minister to let-up the military offensive, at least for a time. However, Mr Netanyahu said that Israel will continue "with full force" unless Hamas releases more than 240 hostages.
It comes as an ambulance was struck outside Gaza's largest hospital, al-Shifa, in Gaza City. The health ministry in the Hamas-run strip said that it was part of a convoy that was seeking to evacuate the wounded from northern Gaza to the south and that "several citizens were killed and dozens wounded".
Arpan Rai4 November 2023 05:32
1699074042
Israeli strike on school kills 20 civilians, wounds dozens
An air strike on a school in northern Gaza sheltering displaced civilians has killed 20 people people, Ministry of Health in Gaza said yesterday. The strike on the civilian building occured in the evening, it said.
"20 martyrs and dozens of wounded arrived at the Al-Shifa hospital in Gaza City after the direct targeting of a school turned into a makeshift camp for displaced people in the al-Saftawy area in northern Gaza," the health ministry said in a statement.
Several tank mortar shells fell into the school that was directly targeted, the ministry said.
Another strike on people evacuating southern Gaza killed 14 people, the ministry said.
Arpan Rai4 November 2023 05:00
1699073317
How the Israel-Palestine conflict is tearing the art world apart
When it was announced early last month, "Treasured Ornament: 10 Centuries of Islamic Art" promised an exhibit that evoked "the rich history of the Islamic world, and the shared human experiences that bind us, transcending borders and boundaries".
The exhibit at the Frick Pittsburgh museum was set to open on 4 November. But, in the days after Hamas's 7 October attacks in Israel, Israel's siege of Gaza and a bombardment campaign that has killed thousands of Palestinians, the museum quietly decided to postpone the opening.
First, the museum blamed a "scheduling conflict" for the cancellation. But it followed up with a later announcement that linked the decision to the conflict between Israel and Hamas, explaining that "it would have been impossible to predict that war would erupt in the Middle East" during the show.
Arpan Rai4 November 2023 04:48
1699071770
Foreign Secretary welcomes safe passage out of Gaza for British citizens
Britain is pressing for a key border crossing to remain open after more UK nationals secured safe passage out of Gaza, according to foreign secretary James Cleverly.
Around 100 British citizens were expected to be able to leave Gaza for Egypt yesterday, with the in-laws of Scotland's first minister Humza Yousaf among those permitted to leave the territory through the Rafah crossing.
Mr Cleverly welcomed the "positive news" of getting a "number" of British nationals through the crossing, telling broadcasters: "We will continue to work to keep that crossing open, to liaise directly with Israel, with Egypt to ensure that as many British nationals can leave Gaza as possible."
Arpan Rai4 November 2023 04:22