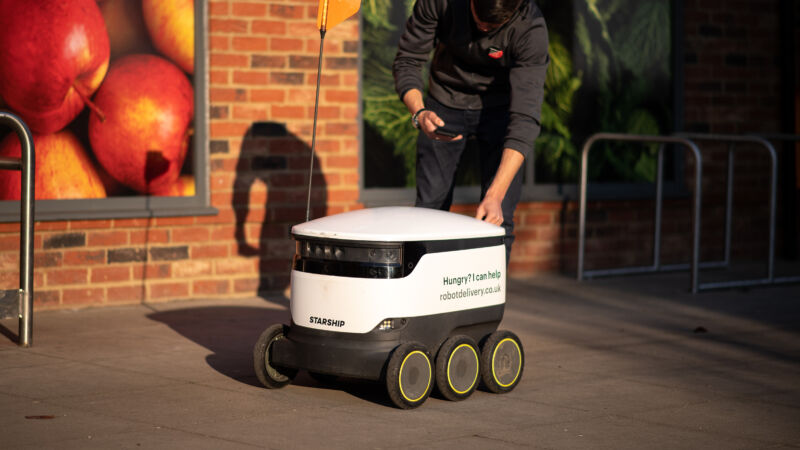 On Tuesday, officials at Oregon State University issued a warning on social media about a bomb threat concerning Starship Technologies food delivery robots, autonomous wheeled drones that deliver food orders stored within a built-in container. By 7 pm local time, a suspect had been arrested in the prank, and officials declared there had been no bombs hidden within the robots.
"Bomb Threat in Starship food delivery robots," reads the 12:20 pm initial X post from OSU. "Do not open robots. Avoid all robots until further notice." In follow-up posts, OSU officials said they were "remotely isolating robots in a safe location" for investigation by a technician. By 3:54 pm local time, experts had cleared the robots and promised they would be "back in service" by 4 pm.

In response, Starship Technologies provided this statement to the press: "A student at Oregon State University sent a bomb threat, via social media, that involved Starship's robots on the campus. While the student has subsequently stated this is a joke and a prank, Starship suspended the service. Safety is of the utmost importance to Starship and we are cooperating with law enforcement and the university during this investigation."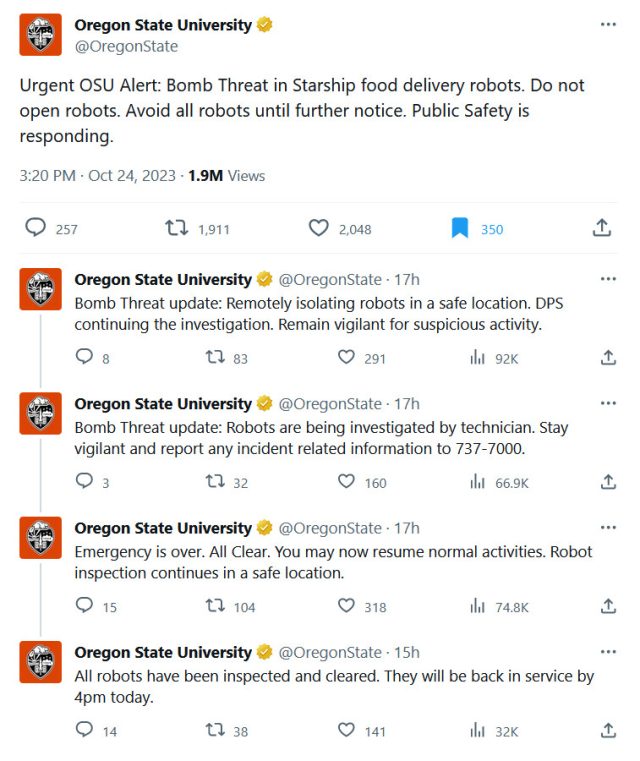 Students and employees of Oregon State University in Corvallis use the robots for remote food deliveries, which are ordered by app and loaded by a food service employee into a compartment. The robots use GPS and built-in sensors to reach their destination. When the robot arrives, the customer opens the robot and retrieves the food stored inside.
According to local news outlet KGW8, OSU introduced its robot food delivery system in 2020 with an initial fleet of 20 drones, but dozens more have been added since then. Starship food delivery has become increasingly common on some college campuses in the US, and the company claims it's in use at about 60 locations worldwide.