Daniil Medvedev denied raising his middle finger to the crowd after being booed
during his defeat to Grigor Dimitrov at the Rolex Paris Masters.
He was beaten 6-3 6-7 (4-7) 7-6 (7-2) in the round of 32 and even stopped playing in the second set until the boos stopped inside the Accor Arena, which prompted an argument with umpire Renaud Lichtenstein after he was given an official time violation.
The drama started in the second set when, with the scores level at five apiece, the 27-year-old received jeers from the Parisian crowd after throwing his racket while stepping up to serve.
Medvedev gestured to the crowd to be quiet and walked back to his bench in protest and told the umpire he would not play until they stopped. In turn, Medvedev received the time violation for delaying the game.
In the end, Bulgarian Dimitrov battled to a three-set win after he let six match points slip before finally dispatching his opponent on the seventh to advance through to the last 16.
Medvedev received more boos as he walked off the court and appeared to give the middle finger to the crowd, something he later denied.
After the match, he told a press conference: "I just checked my nails, like this, no really it's nothing more than that. Why would I do that to this beautiful crowd in Paris Bercy?
"I threw the racket, I get booed, normal. I don't see a problem with that. I go to serve and they applaud or something but I want to serve so they shouldn't applaud, so I still serve and the referee was talking during this, so Grigor wasn't ready.
"This happens, but I get booed, I didn't see why so I didn't want to play and that's actually the end of the story.
"I was like okay, until they boo I'm not going to play but the Bercy crowd doesn't stop to boo and then when I got the code I was like 'do I really want to get disqualified and finish the match on this note?' So I just went on to play."
Dimitrov will take on Alexander Bublik next, where he reached the semi-finals in 2019.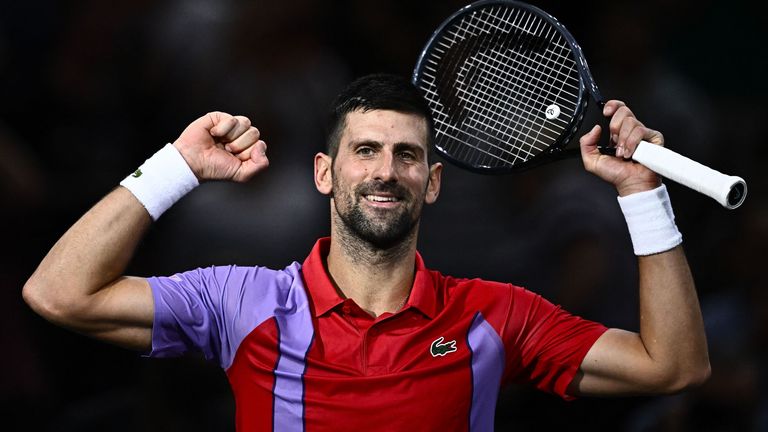 World No 1 Novak Djokovic showed no signs of rust from his US Open triumph to win his opening match at the Paris Masters on Wednesday.
Djokovic tightened his grip on the year-end No 1 as he eased past Tomas Martin Etcheverry 6-3 6-2 to reach the third round in the French capital.
The 36-year-old could extended his advantage to 1,495 points by winning a record-extending seventh title in Paris-Bercy after his nearest rival Carlos Alcaraz lost in his opening match on Tuesday.
Djokovic, chasing a record-extending 40th Masters 1000 title, will next play Dutchman Tallon Griekspoor.
Stefanos Tsitsipas passed a stiff test from the resurgent Felix Auger-Aliassime, where the Greek's serving helped him seal a 6-3 7-6 (7-4) triumph.
Stream all your favourite sports and more with NOW