A while back, we tried out a new idea on a special edition of Freakonomics Radio — a game show we called Tell Me Something I Don't Know. You might remember it. It was so much fun that we decided to launch a whole new podcast series. It's been in the works for a while and it's finally here! A preview episode of the first season of TMSIDK is now available.
Please take a minute to subscribe and, if you like the sound of the preview episode, please please PLEASE leave a rating and/or review on iTunes — it's really important in helping launch a new show.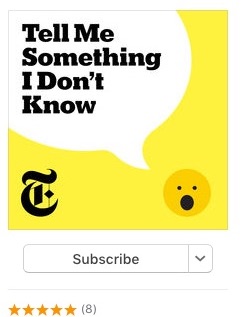 Like all the Freakonomics stuff we do, TMSIDK is still journalism, still factual — but disguised in the most sparkling conversation you can handle. In each episode, audience contestants get on stage and tell us something fascinating (or earth-shaking, or just plain weird) while a panel of three experts tries to sort out what's worth knowing and what's not.
The panelists are drawn from an eclectic group of wise people — like Barnard College president Debora Spar; New York Public Library president Tony Marx; former White House economist Austan Goolsbee; the Jesuit writer and thinker James Martin; bioethicist Zeke Emanuel; former White House chef Sam Kass;  Microsoft researcher danah boyd; the heart surgeon and TV doctor Dr. Oz; poker champ Annie Duke; the linguist John McWhorter; the Grit author Angela Duckworth; and the happiness guru Gretchen Rubin.
We also have plenty of comedians and humorists, including Keisha Zollar, Chris Gethard, Frank Delaney, Andy Zaltzman, and Hannibal Buress. And occasionally a globetrotting adventurer like author Simon Winchester.
It's all hosted by Stephen J. Dubner, who is accompanied each night by a real-time human fact-checker to keep everyone (mostly) honest.
Please subscribe today, so you don't miss a single episode. The first one will be out on November 7. Season 1 will run six episodes — and we're already taping Season 2 in New York City (in December and January), so come be a contestant or get tickets to see the show. You can also follow TMSIDK on Twitter, Facebook and Instagram.